Roy Keane believes Arsenal "have run out of steam, physically and mentally" as their Premier League title hopes were effectively ended after a 3-0 home defeat to Brighton.
The damaging loss leaves leaders Manchester City just one win from lifting the title, which they can do next Sunday if they beat Chelsea at home, live on Sky Sports.
The Gunners had been eight points clear of City at the top after 18 games but just two wins in their last seven matches has allowed City to open up a four-point lead over Mikel Arteta's side.
Please use Chrome browser for a more accessible video player
FREE TO WATCH: Highlights from Brighton's stunning win at Arsenal in the Premier League
Following the 3-0 defeat to Brighton, seven-time Premier League winner Keane told Sky Sports: "Arsenal just look like they have run out of steam, physically and mentally.
"But we cannot be too hard on Arsenal. It has been a very good season. They have just come up short.
"We are talking about top-level football here. You have to remind people it is so hard to win.
"What happened to Arsenal today was brutal. But it was brilliant. Watching a team just come up short and there is no hiding place. That is why we love the game. There is no hiding place and they were found out today.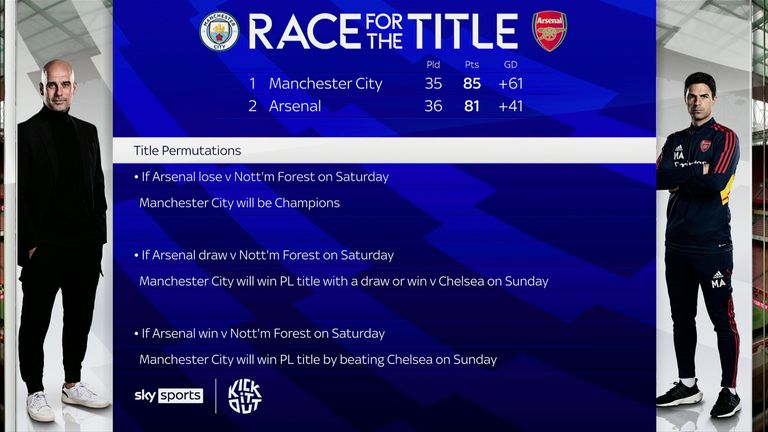 "I think we saw a team today that was physically and mentally shot. It really was. As soon as Brighton started flexing their muscles, passing and moving, looking sharp, they looked quicker and sharper.
"We have been saying for a few months that if they have a few injuries they will struggle and certainly they do not have the strength in depth of City. They have the experience and the depth in quality. Arsenal have just come up short. It is as simple as that.
"I think when you look at some of the games over the last five or six weeks, the West Ham game [2-2 away draw] particularly stands out for me. The West Ham and Southampton [3-3 home draw] games.
"I know they have dropped points at Liverpool [2-2 away draw], losing at City [4-1 defeat]. That can happen.
"They have won 25 league games which is fantastic. But I think the points lost against West Ham and Southampton definitely knocked them back a bit."
The former Manchester United midfielder believes Arsenal need to strengthen their squad this summer because their side "weakens" when they make changes.
"They will need four or five players," he said. "It is easy to roll off your tongue and say a team need players. Manchester United need players. Manchester City need players.
Please use Chrome browser for a more accessible video player
Arsenal boss Mikel Arteta apologised for his side's second-half performance after they were beaten by Brighton and said his team did not have the answers to the Seagulls
"It is getting the right players and the right characters so that if they ever get into this position again and have a few injuries, they have quality to come in.
"We talk about Manchester City making changes today but they brought in pure quality. The team did not weaken. When Arsenal make changes, the team weakens."
Vieira: Impossible City let it go now | 'Arsenal need more personality'
Former Arsenal skipper Patrick Vieira admitted the title race was effectively over and believed City's 3-0 win at Everton earlier on Sunday hurt the Gunners.
He told Sky Sports: "I'm really sorry to say that, but I think it would be impossible for City let that go now.
"It was a must-win game for Arsenal and today, they didn't play the game that we were awaiting.
"There was a lack of energy and it looked like the result of City really took their legs because today they didn't do enough to win the game."
Vieira, who won three Premier League titles with Arsenal, feels Arteta needs a team with "more personality" if they are to close the gap on City.
Sunday 21st May 3:30pm Kick off 4:00pm
He said: "(Martin) Odegaard has been the technical leader on the field but what they are missing is this physical presence, this leadership where people can get at the back of players when they are not performing at the level Arsenal expect.
"For me, they will have to build a team with more personality, more competitiveness.
"There is no doubt about Arsenal's quality – they're playing some really good football – but there's still a difference between them and Manchester City.
"When you look at City, you get the physical attribute of the players – they are six foot three or six foot four and really strong.
"So it's important for Arsenal and Mikel (Arteta) to identify what they are missing and try to improve that side of the game."
Vieira: Arsenal will learn from this | 'They need a CB and a RB'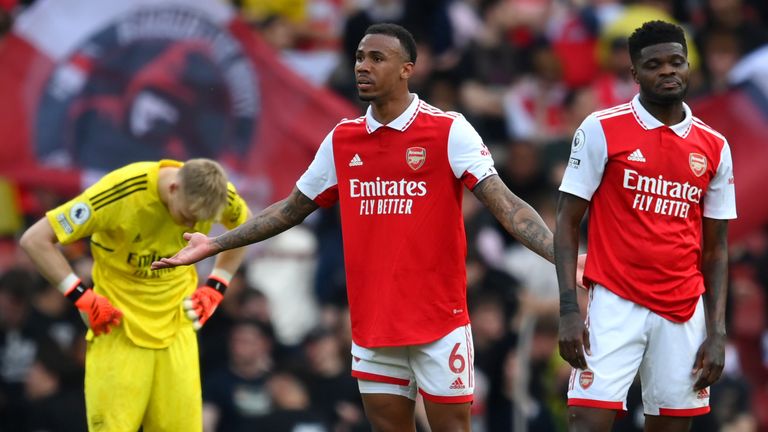 The Frenchman added: "Of course, they'll be disappointed because they were so close to winning the title and they have to realise what they are missing.
"They lost the title today but it's about how you rebuild the team, what you think you are missing to improve and to be even closer to Man City next season.
"I think they'll have to analyse not just the game today but the season. They will have to take a step back and to reflect on the season.
"There's a couple of pieces they're missing to be a bit more closer to Man City.
"What is really important is the experience. Players going through this period will gain this kind of experience.
Saturday 20th May 5:00pm Kick off 5:30pm
"It was quite challenging because in the last 10 games, they are playing games to win and when you play those the pressure is different.
"They will learn from this situation they are living at the moment and that will make them stronger next year.
"Then there are some pieces that are missing on the field. When you're looking at the back they need a couple of pieces – a centre-back and a right-back.
"In the midfield, they need more physicality and up front it's important to have players capable of scoring goals.
"If they manage to bring those three to four players in the starting XI then they will be a step closer to Manchester City."
May 20: Nottingham Forest (A) – Premier League, kick-off 5.30pm, live on Sky Sports
May 28: Wolves (H) – Premier League, kick-off 4.30pm
May 18: Newcastle (A) – Premier League, kick-off 7.30pm, live on Sky Sports
May 21: Southampton (H) – Premier League, kick-off 2pm
May 24: Man City (H) – Premier League, kick-off 8pm, live on Sky Sports
May 28: Aston Villa (A) – Premier League, kick-off 4.30pm