Jamie Carragher feels Arsenal still lack a centre-back of the calibre of Rio Ferdinand, Virgil van Dijk or Vincent Kompany and says it's a "myth" that William Saliba's injury cost them the title.
Arsenal's challenge was effectively ended with their 3-0 defeat to Brighton on Super Sunday, with Manchester City now four points clear at the top of the table having played a game less.
The Gunners' form has nosedived since Saliba suffered a season-ending back injury in March, with Mikel Arteta's side only taking nine points from their last seven Premier League games in his absence.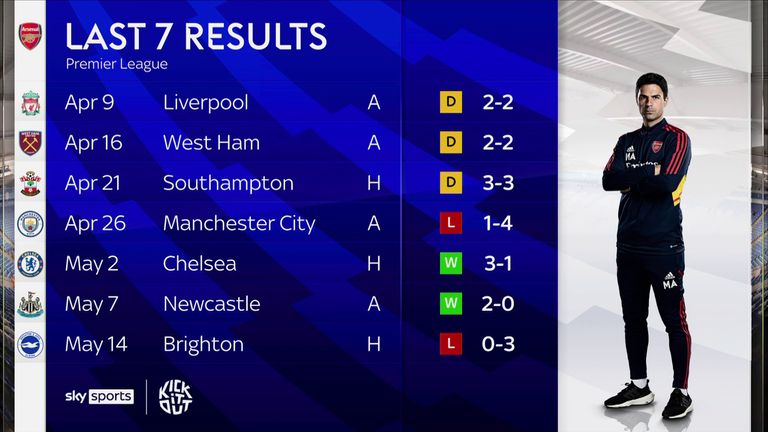 But Carragher believes their defensive issues were apparent even with Saliba in the team following the World Cup, and that they still lack a truly dominant figure in the heart of their defence.
"Defensively, that's been the massive drop-off," Carragher said on Monday Night Football when asked why they have fallen short.
"When you think of title winners, you go through players in my position: Vincent Kompany, Virgil van Dijk, Nemanja Vidic, Rio Ferdinand, Jaap Stam, John Terry.
"When I look at Arsenal's centre-backs, I don't think they've quite got one of those yet – even though Saliba may become that."
Carragher highlighted statistics showing that, while Arsenal were still getting positive results in the wake of the World Cup, their defensive decline actually began when Saliba was still in the team.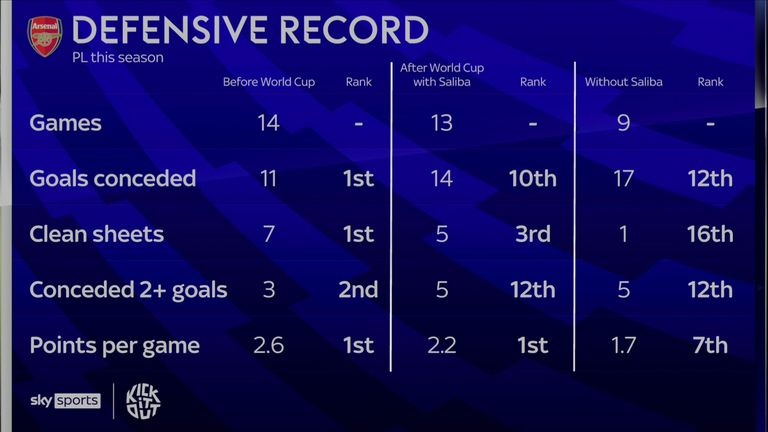 "It tells you that, after the World Cup, they were looking completely different defensively," he said. "They were still getting the results, but they were conceding goals.
"Then, without Saliba, they drop even further. Yes, that's where they have lost it, and with Saliba, they were still top of the league, but this idea that they weren't conceding goals, or looking vulnerable, with Saliba at centre-back is a myth."
Carragher was, however, quick to add that Saliba, who has broken into the French national team this season, has the capacity to one day reach that level.
"I think he's got the potential to be a Virgil van Dijk, a Vincent Kompany or a Rio Ferdinand, that sort of figure at centre-back," he said. "I'm not quite sure Gabriel has."
Saliba's injury left Arteta having to use Rob Holding and, more recently, January signing Jakub Kiwior in the 22-year-old's place.
"I'm not saying he wouldn't have made a huge difference in the second half of the season," added Carragher. "He would have, because he's better than Rob Holding, he's better than Kiwior, there's no doubt.
"But he was still making mistakes that were leading to goals."
Please use Chrome browser for a more accessible video player
Gary Neville assesses why Arsenal have fallen behind Manchester City in the Premier League title race
Carragher highlighted individual errors which led to goals for Brighton's Evan Ferguson at the Amex Stadium in December and for Aston Villa's Ollie Watkins at Villa Park in February.
"I don't think him being there for the full season would have meant that Arsenal would have gone on and won the title," he added.
"I'm sure they would have been a lot closer, but there are still things he needs to improve on, to get to the level I'm talking about, of other central defenders who have gone on to win titles.
"There's still a way for Arsenal to go defensively. Right now, they have conceded 42 goals, with a couple of games to go.
"You have got to go back to the 1990s for examples of teams winning the Premier League when conceding over 40 goals.
"If you want to win the Premier League, with Man City around, you've got to get 90-plus points, but you've also got to look at goals scored and goals conceded.
"If you want to win a title, you can't be looking at conceding more than 30 or 35 goals."
Carra: 'Kiwior worst piece of defending I've seen'
Jamie Carragher was left unimpressed by Jakub Kiwior's defending for Brighton's first goal on Sunday.
The centre-back went to ground while the ball was still in play, attempting to put his boot back on and allowing Julio Enciso to score.
"I think this is one of the worst pieces of defending I've seen all season from Kiwior," said Carragher.
"I can't accept that he was injured, that we went down and that his boot came off.
"He's got to get up and defend. You are fighting for a title. It's really poor."
Neville: Arsenal failure to adapt costly
Gary Neville, meanwhile, pointed out that while Arsenal's defensive performances have deteriorated, Manchester City's have improved, with Pep Guardiola showing pragmatism by often using four natural centre-backs across his back line.
"Look what Pep was doing 10 or 12 games ago when he was playing Rico Lewis or Bernardo Silva [at left-back]," said Neville.
"Pep was trying to get back at Arsenal in quite an innovative way, but a way that was causing them problems.
"He then started to play four centre-backs. Kyle Walker is not a centre-back but he has played there. [Nathan] Ake, [Manuel] Akanji, [Ruben] Dias, [Aymeric] Laporte.
Please use Chrome browser for a more accessible video player
Speaking on the Gary Neville podcast, the former Manchester United defender says he always doubted that Arsenal would have the experience to win the Premier League
"With what Pep has done, City have probably played their most pragmatic football, in these last 10 games, to adapt to what Arsenal were doing and the pressure Arsenal were putting them under.
"But he started to get clean sheets, he started to be really serious about the defending part.
"I think if you look at Arsenal in these last few weeks – and Jamie has highlighted it superbly – there are far too many holes.
"Forget the Saliba thing, you've got to adapt as a team somehow. Whether that's going to the Etihad and sitting off, or being a bit more counter-attacking.
"They never adapted, they always continued to play the same way, and I think that's really cost them."