After struggling in back-to-back games, Jayson Tatum erupted for 51 points – the most-ever in a Game 7 – as the Boston Celtics beat the Philadelphia 76ers 112-88 to advance to the Eastern Conference finals for the second straight year.
One game after missing 14 of his first 15 shots only to awaken in the fourth quarter in time to save their season, Tatum scored 25 in a back-and-forth first half and 17 more in Boston's 33-10 third quarter that turned a three-point lead into a runaway.
"I was relieved just to get another chance. Our season could have been over after Game 6," said Tatum, who broke the Game 7 record of 50 points Stephen Curry set two weeks ago. "It definitely was on my mind that I had played as bad as it could get, for 43 minutes.
"But we had a saying: 'It's only up from here'."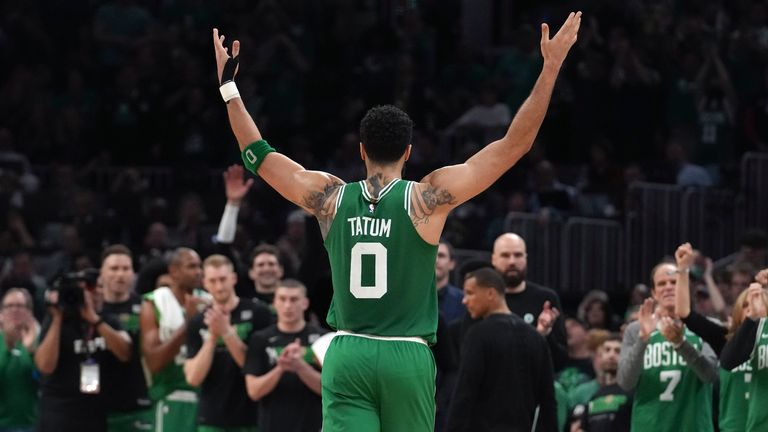 Tatum added 13 rebounds and Jaylen Brown scored 25 points for Boston, who rallied from a 3-2 deficit in the series to keep alive their hopes for an unprecedented 18th NBA championship.
"You always come into a series with the expectation of how it's supposed to go," said Celtics coach Joe Mazzulla, who is in his first year as an NBA head coach after being promoted on the eve of training camp after Ime Udoka was suspended. "That's not how the playoffs are."
Please use Chrome browser for a more accessible video player
Highlights of the Philadelphia 76ers clash against the Boston Celtics in game seven of the Eastern Conference semi-finals
Tatum defied expectations in Game 5 when he started 0 for 6 and missed 14 of his first 15 shots overall from the floor, before making four three-pointers in the final 4:14 to force the decisive seventh game.
At the TD Garden, he was resurgent, scoring 11 points in the first quarter, 14 more in the second and outscoring the Sixers on his own, 17-10, in the third. The 33-10 edge in the third was the most lopsided quarter in a Game 7 since at least 1997.
"JT just got it going and get out of that man's way," Brown said. "He got it rolling, and there's nothing they could do to stop him."
He was subbed out of the game with three minutes left to a standing ovation from the crowd, which soon broke out in a 'Beat the Heat!' chant.
For the 76ers, it was a night to forget.
Newly-crowned NBA MVP Joel Embiid scored 15 points on 5-for-18 shooting, and Tobias Harris scored 19 for Philadelphia.
The Sixers lost in the conference semi-finals for the third straight year, and the fifth time in six seasons; they have not gone any further since reaching the NBA Finals in 2001 despite 'The Process' – tanking their way to four top-three draft picks in a row, including Embiid.
"I thought we had the right group. I really did," said Sixers coach Doc Rivers, who was on the Boston bench when the Celtics won it all in 2008. "We played great all year and this loss absolutely diminishes what we did this year in some way.
"I think this team is headed right. I thought we took another step this season. And then tonight I think we took a step backward. But that's OK. That happens, too."
The Celtics, who lost to the Golden State Warriors in the NBA Finals last year, will face the Miami Heat in the East finals for the second straight season. Game 1 is on Wednesday in Boston.