England bowler Jofra Archer will miss The Ashes and the rest of the summer after suffering a recurrence of a stress fracture to his right elbow.
Archer has not played a Test since March 2021 and only returned to international cricket earlier this year after an absence of nearly two years, owing to elbow and back injuries.
The 28-year-old will now spend time with the England and Sussex medical teams, who the ECB say will work on his injury management.
ECB managing director Rob Key said: "It has been a frustrating and upsetting period for Jofra Archer. He was making good progress until a recurrence of the elbow injury, which kept him out for an extended period previously.
"We wish him the best of luck with his recovery. I'm sure we will see Jofra back to his best and winning games for England, whatever the format. Hopefully, sooner rather than later."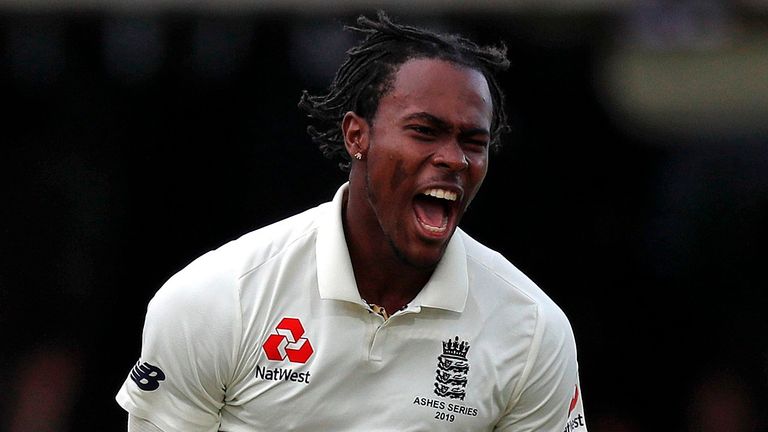 Archer returned early from the Indian Premier League last week due to discomfort in his troublesome right elbow, the England and Wales Cricket Board confirming that Archer had been "pushing through the discomfort" while playing and it had proved "challenging".
Olly Stone also faces several weeks on the sidelines after injuring his hamstring on duty for Nottinghamshire.
The ECB also released a statement on Sunday confirming England and Lancashire seamer James Anderson has sustained a mild strain to his right groin, but he was then named in the 15-man squad for the Test match against Ireland on June 1.
Warwickshire seamer Chris Woakes returned to the Test squad for the first time since March 2022, while Mark Wood is back in the squad.
Test captain Ben Stokes, meanwhile, has sent down just one over for Chennai Super Kings in the ongoing Indian Premier League, with the franchise's head coach Stephen Fleming saying, "Ben's ability to bowl overs at the moment is still a bit of a challenge".
Key: Archer desperate to play all forms of cricket | Needs to be 'robust' enough
With Archer now ruled out for the remainder of the summer, ECB managing director Key admitted the focus has to shift to getting the fast bowler's body in the best position to deal with the "rigours" of cricket.
"People like Pat Cummings missed a lot of cricket in the early stage of his career and now he's putting season after season together for Australia," said Key.
"I'm hoping at some point, Jofra, who deserves a bit of luck and is distraught about what's happened, that his luck turns. I'm sure it will.
"The one thing about Jofra is sometimes people think he's going to go down the white-ball road and there are other things on his mind. That's absolutely not the case. He's desperate to play all forms of cricket."
Please use Chrome browser for a more accessible video player
Liam Livingstone blasted three consecutive sixes off the bowling of England team-mate Jofra Archer in the 19th over of their IPL clash
He added: "At the moment all cricket has been too much for his body to cope with and we need to get past that.
"Someone like Jofra is like a Formula 1 car almost. He goes through the period that he's been through, that's been really tough, and you just think you get to the point where he can play, but there's another setback.
"You just hope down the line he will overcome this and the body will become robust enough to deal with the rigours of everything.
"I wouldn't sit here and rule anything out at the moment."
Archer's injury timeline
August 2019: Archer makes his England Test debut vs Australia at Lord's and plays in seven Test matches and 14 ODIs in 2019.
January 2020: Misses three Test matches and T20 series vs South Africa following pain in his right elbow and later withdraws from the 2020 IPL.
July 2020: Plays in first Test vs West Indies, but misses second Test after breaking COVID guidelines. He plays in three further Test matches that summer.
February 2021: Archer features in two Test matches in India, to date his final appearances in Test cricket.
March 2021: Archer misses two Tests vs India and is withdrawn from ODI series as elbow injury flares up again. He then needs minor surgery after getting glass in his hand cleaning a fish tank and pulls out of the IPL.
May 2021: Archer decides to have surgery on his persistent elbow injury and misses the rest of the year.
December 2021: Archer has a further operation which rules him out of the winter tour of West Indies.
May 2022: Archer suffers a stress fracture in his back and misses the rest of the year.
January 2023: Archer returns to international cricket in two ODIs vs South Africa. He then plays in two ODIs and three T20 matches against Bangladesh that winter.
April 2023: Archer plays in the IPL before reports suggest he has undergone further elbow surgery.
May 2023: Archer's Ashes dreams are crushed as scans reveal a recurrence of the stress fracture to his right elbow.
When is The Ashes?
Stokes will lead England for the first time in an Ashes series, with the hosts looking to regain the urn for the first time since 2015, and – after a four-day Test against Ireland – it will all begin at Edgbaston on June 16.
The series will then move on to Lord's (June 28-July 2) and Headingley (July 6-10), the scene of Stokes' 2019 heroics, before finishing at Emirates Old Trafford (July 19-23) and The Kia Oval (July 27-31).
Watch every match from the men's and women's Ashes live on Sky Sports. You can also follow videos and over-by-over text commentary across Sky Sports' digital platforms. Live coverage of the first Test is live from June 16-20 on Sky Sports Cricket.