Three teams – Manchester United, Chelsea and Arsenal – are still fighting it out to claim the WSL title as the season approaches its final two weeks.
In a topsy-turvy campaign, three of the country's biggest clubs have a chance of lifting the WSL title on May 27, with six points separating the trio.
Second-placed Chelsea triumphed over league leaders Man Utd in Sunday's FA Cup final showpiece, but remain a point adrift of their rivals ahead of an epic finale to the WSL campaign.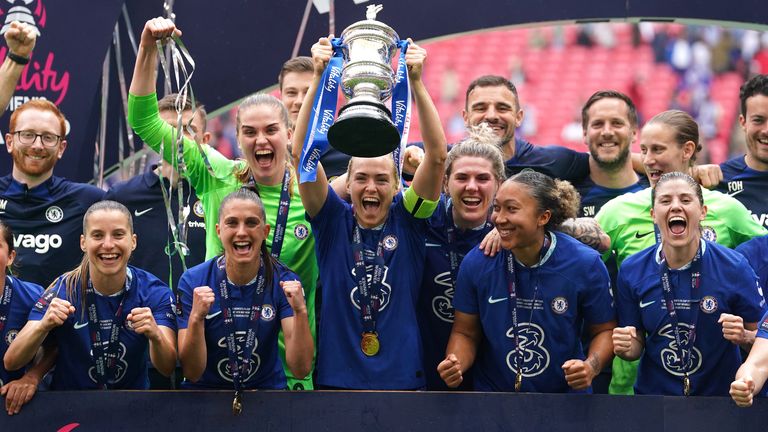 Arsenal, meanwhile, are five points behind Chelsea – both teams having played a game fewer than Man Utd – making them the outsiders in the title hunt but not out of the race completely.
The Gunners are level on 44 points with Man City but have a crucial game advantage and a far superior goal difference, essentially eliminating Gareth Taylor's side from the competing pack.
So, which team has the best chance of fighting their way to top prize? We take a look at each challengers' bid…
Position: 1st
Played: 20
Points: 50
GD: +42
Remaining WSL fixtures: Man City (H) – May 21*, Liverpool (A) – May 27
*Live on Sky Sports
Manchester United have led the charge from an unfamiliar position this term. A first-time frontrunner, this season has been one of significant growth for Marc Skinner's side, having never before featured so heavily in the WSL title picture.
Until very recently, United had outscored all of their closest rivals while also conceding the fewest. A late Chelsea surge, which has seen 13 goals scored in two devastatingly dominant games, has put paid to that but progress is nevertheless evident.
Please use Chrome browser for a more accessible video player
Highlights of the Women's Super League match between Manchester Utd and Tottenham.
This may well go down as a close-but-not-quite kind of campaign for the relative newcomers, despite a pointed trend towards improvement and advancement. Indeed, the ball is now in Chelsea's court, but a late plot twist remains possible.
"Man United are a wonderful football team," Chelsea boss Emma Hayes relinquished after Sunday's FA Cup final triumph. "We're a club that is going places," counterpart Skinner said, while also acknowledging the Blues' far superior footballing heritage.
United will naturally refuse to be written off until the bitter end but any slip-up in this weekend's Manchester derby against Man City, live on Sky Sports, will prove fatal. Skinner's side are being fiercely chased by Hayes' relentless Chelsea, who are now within touching distance – just one point separates first and second in the standings.
Sunday 21st May 6:30pm Kick off 6:45pm
Should United take care of business on their end by beating City and then Liverpool on the final day, it will be up to Chelsea to respond in kind. They have a game advantage, with a possible nine points to collect, but that includes a meeting with Arsenal.
It's intriguingly tight and wonderfully poised heading into crunch week!
Position: 2nd
Played: 19
Points: 49
GD: +42
Remaining fixtures: West Ham (A) – May 17*, Arsenal (H) – May 21, Reading (A) – May 27
*live on Sky Sports
Wednesday 17th May 8:00pm Kick off 8:15pm
We are now at the business end of the season and this is Chelsea's league to lose. One trophy in the bag, one still at large.
The fixture list is in their favour. As well as their game in hand on Man Utd, the Blues have already successfully negotiated matches against the competing field – only a showdown with outsiders Arsenal remains, with two of their three remaining fixtures against teams in the bottom half of the table.
Please use Chrome browser for a more accessible video player
Highlights of the Women's Super League match between Chelsea and Everton.
No game is a gimme. But once Chelsea get going there is very little that can stop them. Just ask Everton, who were on the end of a recent 7-0 thrashing. Or Leicester, who were thumped 6-0 at a wet and windy Kingsmeadow.
The return of the imperious Pernille Harder from a six-month spell on the sidelines has only strengthened Chelsea's case. She was the game-changer against Man Utd at Wembley, laying the ball on for Sam Kerr to convert in a 1-0 win.
Few have had more significant impact on the course of Chelsea's campaign than Kerr – but expect Harder to have her say before the season is out. Together, the pair are unstoppable.
Please use Chrome browser for a more accessible video player
Highlights of the WSL clash between Chelsea and Leicester.
Harder has been directly involved in 10 goals (seven goals, three assists) in only 328 minutes of league action this season – averaging a goal or assist every 39 minutes, the best rate of any player.
The direction of the race is Chelsea's to control. The WSL remains under their spell. As Hayes says, "we are masters of our own destiny".
Please use Chrome browser for a more accessible video player
Chelsea manager Emma Hayes says her team are in a 'good rhythm' ahead of the WSL run-in, but admits the players need improve on their last two performances.
Position: 3rd
Played: 19
Points: 44
GD: +34
Remaining fixtures: Everton (A) – May 17*, Chelsea (A) – May 21, Aston Villa (H) – May 27
* Live on Sky Sports
Title credentials are built on the promise that key players stay fit and firing. Arsenal have not been so lucky.
In truth, they have been on the back foot since season-ending knee injuries to star forwards Vivianne Miedema and Beth Mead around Christmas, which threatened to derail their campaign before it had even reached its midway point.
Please use Chrome browser for a more accessible video player
Highlights of the Women's Super League clash between Brighton and Arsenal.
The treatment room has got considerably busier since then, with Arsenal having to include five teenagers in their matchday squad during their most recent 4-0 win over Brighton. They have been crippled by injuries.
If nothing else, that victory serves as hope. Arsenal have three games left to thrash out but would need a gigantic helping hand from other teams in order to stand any chance of WSL glory. They are six points adrift of United, and five worse off than Chelsea. It would take somewhat of a miracle.
Please use Chrome browser for a more accessible video player
Arsenal manager Jonas Eidevall says he was forced to take some
Their say in the title hunt does, however, extend further than their own agenda. The Gunners have the potential to swing the race in Man United's favour if they manage to get the better of Chelsea on Sunday.
Jonas Eidevall has made it clear he is intent on finishing the campaign strongly. So, what is left in the Arsenal tank? And how much upset are they still capable of producing?
Hosted by Caroline Barker, Three Players and a Podcast sees Jen Beattie (currently playing for Arsenal), Izzy Christiansen (currently playing for Everton) and Rachel Yankey (former WSL player and England international) bring three topics to the table each episode. Topical or historical, light-hearted or hard-hitting – we'll discuss the important issues and debates surrounding women's football.
Subscribe now on: Apple Podcasts | Spotify