Arsenal midfielder Granit Xhaka is increasingly likely to leave the club this summer.
Xhaka is about to enter final 12 months of his contract and – as it stands – no talks are planned over an extension.
Bayer Leverkusen are thought to be confident of signing him for next season.
The 30-year-old is in his seventh season at Arsenal. He joined from Borussia Monchengladbach for around £30m in 2016.
The Swiss midfielder is in the best scoring season at the club, having netted seven times in all competitions in a new-found attacking role for Arsenal this term.
Please use Chrome browser for a more accessible video player
Speaking to Jamie Carragher as part of an MNF special, Arsenal manager Mikel Arteta explains the decision to give midfielder Granit Xhaka a new role in the team.
Will Arsenal miss Xhaka?
Sky Sports Sam Blitz:
Over his seven years at Arsenal, Xhaka has done his fair share of dividing the Arsenal fanbase. Many are surprised he has survived this long.
Some saw him as part of the problem as Arsenal slid towards the middle of the table, others saw him as misunderstood and scapegoated.
But if Xhaka chooses to part ways with the club this summer, his departure will come at the moment he is finally universally liked at the Emirates Stadium.
Xhaka nearly walked away from the club in 2020, months after he was stripped of the captaincy after a public falling out with the fans, but Mikel Arteta told him to give it some time. That time has been vindicated as the Arsenal manager found him a suitable role in the team.
The 30-year-old has been an important, underrated attacking player, and one not burdened by the expectation carried by Martin Odegaard and Bukayo Saka. His place in the squad is similar: he does not wear the armband but many at the club claim he is skipper in all but name.
Please use Chrome browser for a more accessible video player
Granit Xhaka gives his reaction to his impressive performance against Chelsea in the Premier League.
Yet if rumours are true of a dual interest in Declan Rice and Moises Caicedo – a double move which would likely cost the club north of £150m – then something has to give, and the reported £15m Xhaka would command might come in handy.
Perhaps Arteta is also looking to refresh his leadership group. The likes of Rob Holding and Kieran Tierney – two of the captains at the club – are also rumoured to depart this summer.
Given two end-of-season collapses have happened in a row – albeit in different contexts – a new changing-room direction might be on the Arsenal manager's mind.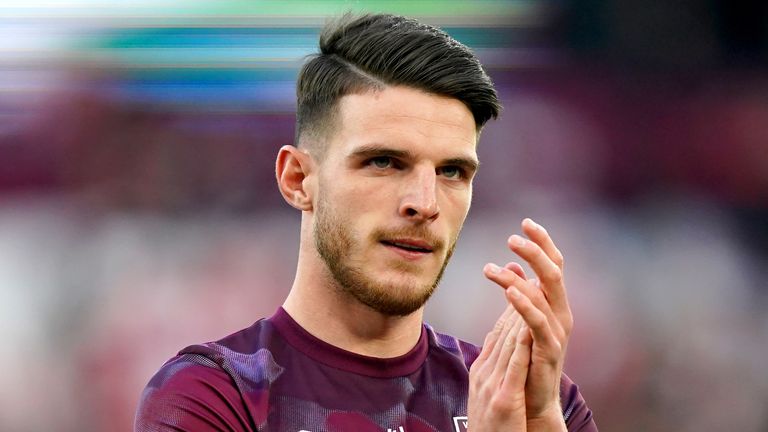 Meanwhile, West Ham will allow Declan Rice to leave this summer if they receive an offer worth £120m from a Champions League club.
West Ham would also accept £100m plus a player for the midfielder, with the Hammers already receiving enquiries about him.
His most likely destination at the moment is Arsenal, while Chelsea, Manchester United and Liverpool have also shown an interest in the England international.
Please use Chrome browser for a more accessible video player
Speaking on Back Pages Tonight, David Ornstein from The Athletic claims that Arsenal's £200 million potential outlay this summer is not a reaction to losing the title but due to an increase in revenues due to Champions League football.
Rice will have one year left on his contract this summer but West Ham have the option of extending it by another year. He rejected the offer of a new £200,000-a-week contract 18 months ago.
West Ham will only sell if the money is right and all proceeds from any potential sale would go towards strengthening the squad in the summer.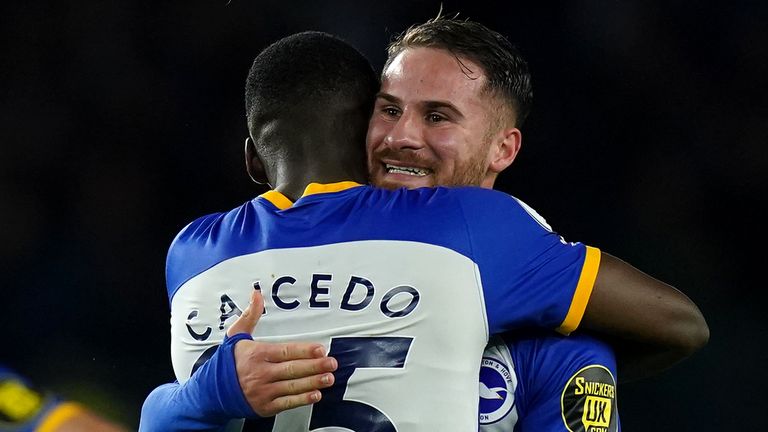 Brighton will expect offers well in excess of the £70m turned down for Moises Caicedo in January to sanction his exit and that of Alexis Mac Allister this summer.
The players are both on long contracts, which are not thought to include release clauses as CEO Paul Barber has revealed the club avoids them.
Both Caicedo and Mac Allister have been star players for Brighton this season, and have unsurprisingly attracted multiple suitors, putting the Seagulls in an enviable negotiating position.
Caicedo agreed fresh terms until 2027 in March, with the club having the option of an extra year. Arsenal, who saw their £70m bid rebuffed for the Ecuador international in the winter window, retain strong interest in him.
Please use Chrome browser for a more accessible video player
Brighton head coach Roberto De Zerbi says the side's 3-0 win over Arsenal at the Emirates was a difficult battle which they
Caicedo has also featured on the wish lists of Manchester United, Chelsea and Liverpool, although the latter have been positively pitching to Mac Allister's camp. The Argentina international is high on Jurgen Klopp's shortlist of targets.