Russell Martin has verbally agreed to become the new Southampton manager.
Discussions between Swansea and Southampton are ongoing over the issue of compensation, but it is understood Martin could be confirmed as the new Saints boss in the next 24 hours.
Martin has only a year left on his Swansea contract and he postponed a trip to the US where he was due to discuss a contract extension with the club's American owners.
Manchester City's assistant manager, Enzo Maresca, was alongside Martin in the running for the Southampton job, but he has now withdrawn from the process after deciding he wants another season working with Pep Guardiola.
Martin's Swansea side finished in 10th place this season and ended the Championship season strongly, unbeaten in nine games with wins over West Brom and Norwich City during that run.
Saints' PL run ends
Southampton have been relegated from the Premier League for the first time since the 2004-05 season, and third time from the top-flight overall (also 1973-74). 2022-23 was their 11th consecutive Premier League season.
Three managers have occupied the St Mary's hot seat this season and none of them have managed more than three league wins with Ralph Hasenhuttl, Nathan Jones and Ruben Selles all failing to find a winning formula at the club.
Selles has been in charge since Nathan Jones' sacking in February but could not steer the Saints away from relegation from the Premier League.
The Spaniard, who was appointed until the end of the season, has said he is keen to get the role on a permanent basis and lead them in the Championship next term, but does not want to work under a new manager.
"The first question of if I want to stay as a coach if I am not the manager…absolutely not," he said ahead of Sunday's visit to Brighton.
"If someone has a doubt you can put it there and if they don't know through me they can read it in the media. I will try to make my career as a manager, here if it is possible and if not here then in another place.
"I don't think it's insensitive, it is what it is, if I don't want people to talk about it I should win more football matches, I know the business, that's how it is.
"We will talk with the club and make a review after the Liverpool game and that is what I am expecting. Then if the club wants to make any movement with or without me I expect them to communicate with me before being made public."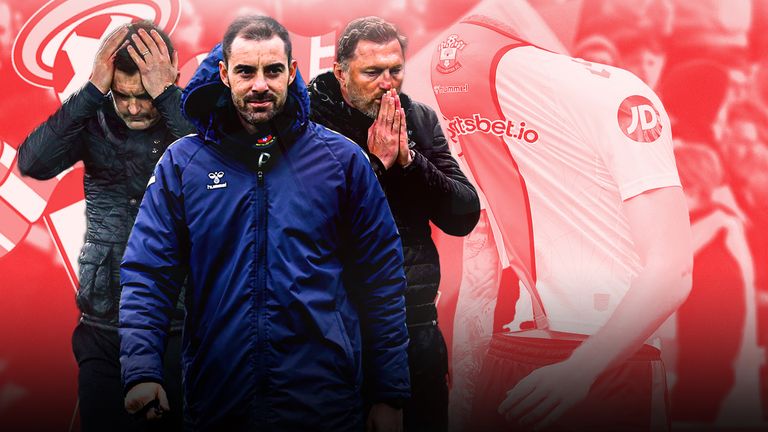 Southampton are a football club burdened by trouble and strife. It has been that way since their European zenith under Ronald Koeman – an extension of the fine work Mauricio Pochettino had undertaken in the two seasons before his arrival.
Saints are a far cry from the club the Dutchman inherited back in 2014. And some distance from where they themselves expected to be after establishing a brief foothold as one of the Premier League's top-half teams.
A story that got muddled before reaching its fairytale conclusion.
Indeed, Southampton's plight is a bit like a 'once upon a time', less the happy ending. A series of pinch points without the comfort of resolution.
Read more on how Southampton have found themselves relegated back to the Championship…