Arne Slot's representative Rafaele Pimenta is set to meet with Feyenoord this week to discuss his future amid interest from Tottenham.
Pimenta is expected to tell Feyenoord that Slot is interested in speaking to Spurs and that they want to discuss how to get him out of his contract.
Spurs are understood to be determined to get Slot after he secured the Eredivisie title with Feyenoord this season.
The Dutch club's director Dennis te Kloese confirmed at the weekend there had been no official approach from Tottenham yet.
Please use Chrome browser for a more accessible video player
Feyenoord head coach Slot admits his next job is likely to be away from the Eredivisie and is attracted by the Premier League which he describes as the best in the world
However, if a window of opportunity arises as a result of talks between Pimenta and Feyenoord this week – Tottenham could make that approach after both clubs' final game of the season this weekend.
Te Kloese also claimed he rejected an approach from Tottenham for him to become their director of football.
"It has not made me consider picking up and moving with the family," he told ESPN. "I came to Feyenoord to build something beautiful, and we are all doing that together.
"We are on our way and want to achieve even more. It would be strange to stop at Feyenoord so soon.
"A departure is therefore not an option for me at the moment. Neither professionally or personally. I want to be clear about that. Tottenham is not going to happen."
Please use Chrome browser for a more accessible video player
Former Tottenham midfielder Jamie O'Hara described his former club as a 'disgrace' and questioned the decision to put 'rookie' Ryan Mason in interim charge
It is understood that, while the financial incentive to join Spurs was a great improvement on his current terms, Te Kloese was not convinced enough over the club's project to pull the plug on his positive work at Feyenoord.
However, the offer for Te Kloese can be seen as a strong signal of how great Spurs' desire is to appoint Slot and bring in Feyenoord's methodology to the club.
Sky Sports News' Gary Cotterill:
Slot seems to have what it takes. His quality as a coach is well documented. It's not for no reason Feyenoord are desperate to keep him and Tottenham look set to come calling.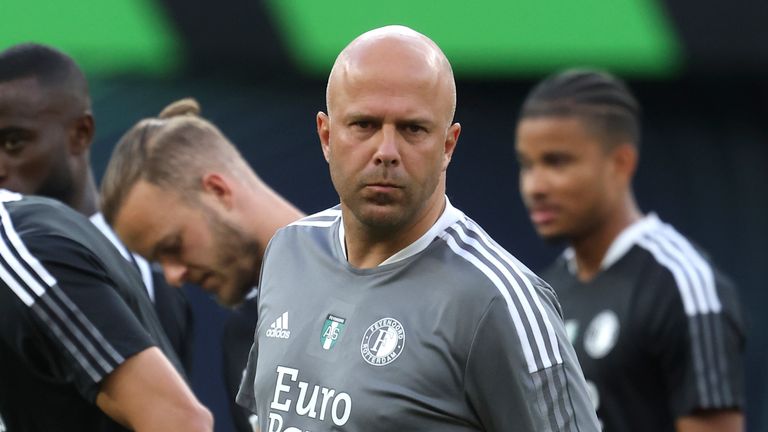 But less is known about Slot the man. Slot the person. He's engaging, polite, very smiley, he's hot presence and charisma – and he's funny.
He's big-hearted too. "He can be angry with his players, of course," says Dennis van Eersel, of Dutch national TV channel RTV, who follows Feyenoord week in, week out.
"But he also puts his arm around them. They like him because he's built a harmony at the club."
He says an example of this is a recent incident involving club captain Orkun Kokcu.
He had some severe sleeping issues that tore him apart. So when the title was won, Slot spotted him getting emotional about overcoming his setbacks and, despite all the madness in the stadium, went over to him and spent time with him and embraced him. "That illustrates the human emotion and empathy that he has."
'The most attacking Dutch coach since Cruyff'
Please use Chrome browser for a more accessible video player
Dutch football journalist Marcel van der Kraan has praised the attacking style of Slot but says it will not be easy for Tottenham to lure him to London
Dutch football journalist Marcel van der Kraan:
"He's a really good manager. I've followed Feyenoord for 40 years. Not since the days of Johan Cruyff at Ajax in the 1980s has there been a coach so attack-minded in the Dutch league.
"Cruyff only had a few disciples who followed him and one of them was Pep Guardiola.
"I would say Slot is a Guardiola-style manager based on everything I've seen over the past couple of years. The fans of Feyenoord can't believe what they've seen over that time."