Johnny Nelson believes Bournemouth's Vitality Stadium could prove to be "a massive help" to Chris Billam-Smith, but has backed Lawrence Okolie's punch power to win Saturday's contest.
Okolie is putting his WBO cruiserweight title on the line against Billam-Smith, an ex-sparring partner turned rival, live on Sky Sports Action and Sky Showcase.
After being kept out of the ring for almost a year, Okolie shook off ring rust over 12 rounds against mandatory challenger David Light in March.
However, Sky Sports Boxing pundit Nelson feels the fight venue may well hold a major advantage for local favourite Billam-Smith.
Please use Chrome browser for a more accessible video player
Okolie says he is ready to defend his title against Billam-Smith and is preparing for a hard fight
"It could be a massive help, because when you're in this kind of pressure, some people – when the pressure is on them – their confidence isn't completely there," Nelson told Sky Sports News.
"When everybody is on you, you can't deal and perform under pressure. But I think Chris Billam-Smith, he steps up to that, and we saw that the last time he boxed there in Bournemouth [vs Armend Xhoxhaj, December 2022].
"He rose to the occasion, and when he got the job done, it was an emphatic knockout. How much would you want a knockout in front of your home fans?
"Remember, he moved promotional camps because he wanted to box at home in front of his own fans.
"Now, he's got what he wished for. But fighting at a stadium…talk about be careful what you wish for. He's got exactly that.
"He is the talk of the town, and he will be a Bournemouth celebrity if he pulls this off."
Please use Chrome browser for a more accessible video player
Billam-Smith says he does not fear Okolie as he looks forward to realising his dream of performing at the Vitality Stadium in Bournemouth
Nelson feels the power of 6ft 5in Okolie will prove too much on the night, though, despite what is sure to be a hostile atmosphere against him.
"I'm going to have to go with paperwork. And paperwork tells me Lawrence Okolie," Nelson said, in terms of who he thinks will win the bout.
"He has that punch power, and a proven track record.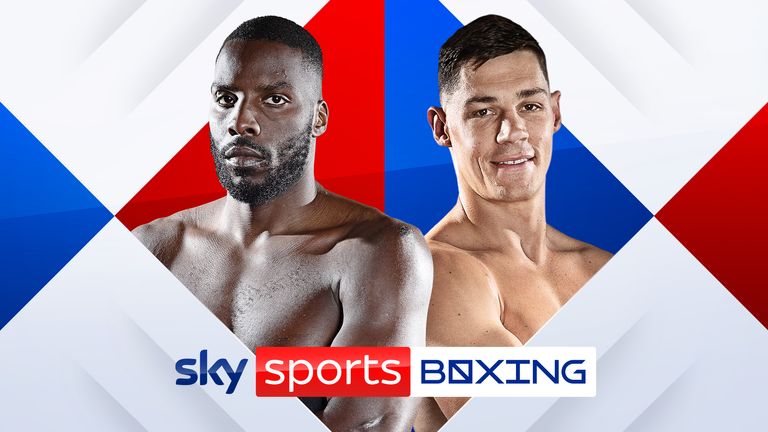 "Chris Billam-Smith on Saturday night, everything has to fall into place. He has to grow up and no longer be the student of Lawrence Okolie, he has to take over.
"So all the ask is on Chris Billam-Smith. Everything is in place for him to do it, and Lawrence Okolie has decided to go into the lions' den and say: 'I'll have this', but I'm siding towards Okolie.
Please use Chrome browser for a more accessible video player
Ahead of this weekend's WBO cruiserweight clash between Okolie and Billam-Smith, check out some of the best British world title fights to have taken place on Sky Sports
"But if I'm honest with you, I love Bournemouth! Chris Billam-Smith boxed my mate last time, and I want him to win so I can go back again!
"Bournemouth is ridiculous. So good luck to both fighters."
Don't miss Lawrence Okolie vs Chris Billam-Smith live on Sky Sports Action and Sky Showcase from 7pm on Saturday night.