Marc Skinner believes Manchester United Women deserve more credit for their achievements this season, and says they will be keeping an eye on Chelsea's trip to Reading on Saturday's final day of the WSL season.
While their chances of winning a first WSL title may be out of their hands, Man Utd still head into Saturday's finale with a shot of lifting the trophy.
They are two points behind Chelsea and, should the Blues lose at Reading, live on Sky Sports, and Skinner's side beat Liverpool, they would be crowned champions.
But even if they are to finish second, it has been a remarkable season for Man Utd. They have successfully disrupted the traditional 'Big Three' in the WSL, reached their first major cup final in the FA Cup and are leading the way in a number of statistical categories.
However, Skinner does not believe his side have been given the recognition they deserve, despite huge improvements on last season and going close in two of the three domestic competitions.
"We've been exceptional this year, and I don't think we get enough credit," he said.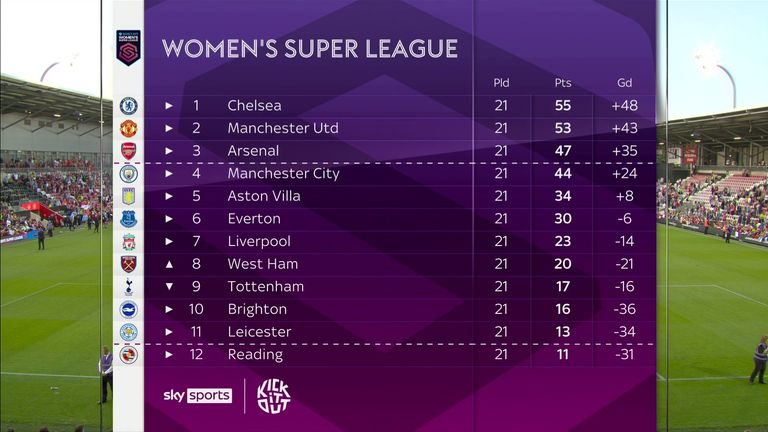 "There's always a caveat as to why we're successful that is other teams' injuries, other teams maybe having not the run they wanted, having Champions League and I get that. It's a factor we'll have to look at, but the players have been exceptional this season.
"It's not about where we finish in the league right now, that's not the overriding factor. If you look at what we've done this year statistically, even with TV audiences, we're the most-watched team.
"We're growing up in front of the public eye, whereas other teams have already done that. This team, in a pressure cauldron, have not only performed well, they have won games of football.
"Maybe we're still in contention to win it and if we don't, we'll finish second, but to do that and disrupt the top historical three – that's a big season regardless of what happens elsewhere. So I want people to give this team and these players the credit they deserve."
How to follow the WSL's final day on Sky Sports
Follow every game from the WSL's final day on Saturday May 27 in our dedicated live blog across Sky Sports' digital platforms as well as updates throughout the day on Sky Sports News.
Watch Reading vs Chelsea live on Sky Sports Premier League from 1.30pm; kick-off 2.30pm. Watch in-game clips and free match highlights from this game on Sky Sports' digital platforms shortly after full-time. 
Free match highlights will be available from the five remaining WSL final day games from midnight. 
'We have to keep tabs on Reading vs Chelsea'
There will be lots of eyes trained on both Prenton Park and the Select Car Leasing Stadium on Saturday, with plenty on the line for three of the four teams involved.
Skinner says Man Utd will keep across developments for Chelsea, but they must do their own job by beating Liverpool to give themselves the best chance of a dramatic final-day WSL title win.
"I think we have to keep tabs on Reading vs Chelsea," he added. "I don't think we'll listen to it with that much intent, but we'll have an understanding of the scoreline and how the game is going.
Saturday 27th May 1:30pm Kick off 2:30pm
"It has factors that might affect our game, but the reality is we're not going to start that way, we have to win the game regardless.
"The way Matt (Beard) sets up his team and the way they've performed this year, you forget they haven't been in the league for long again. I know he's going to build on that team and keep building, so I'm pleased with the aspects he's done for himself and his team this year. We've just got to really focus on what we can do and more importantly, enjoy it.
"I think it'll be more in-ear comms rather than watching the [Chelsea] game. I'm not really bothered about how they perform. It'll be a tough ask for Reading, Chelsea have been excellent this season, especially coming towards the latter stages. It'll be very tough for Reading, but we can all hope.
Please use Chrome browser for a more accessible video player
Highlights of the Women's Super League clash between Manchester United and Manchester City
"We know the reality is if Chelsea draw, we need a massive goal swing. Is that realistic? We're going to try.
"An early goal would be great and we have to perform that way, but to think and believe that you deserve that would be the wrong mentality to go into the game with because the one thing Liverpool are wonderful at is counter-attacking.
"For us, you've got to build the success, they won't give us anything with the way they defend as well. We need energy – we've had it all season and there's no reason to drop it now. All we can try to do is win the game. Should it need different connotations, we need to adapt to that, but we've got to try and win the game."
'We have to be aggressive in our transfer targets'
Once Saturday's game has finished – regardless of the result – attention will turn to reviewing the summer objectives as well as transfer activity.
Ona Batlle and Alessia Russo will be two players under the spotlight in terms of exits, with Skinner also focused on bringing in players who can enhance his squad.
He said: "The beauty of this year is that I've been able to offload some of those conversations [around transfers] to the business team because you have to separate it so I can manage a team effectively.
"That has allowed us, on the field, to do what we do – win games of football, break records and achieve what we're trying to achieve. We've got to be busy, there's no doubt.
"There's a few ways to look at it and I think this is key – everyone looks at what world-class names you're bringing in. But I always look at the back story of how that world-class player became a world-class player. Was it opportunity to play? Was it almost there, but they needed some time? Or the right coach or the right context?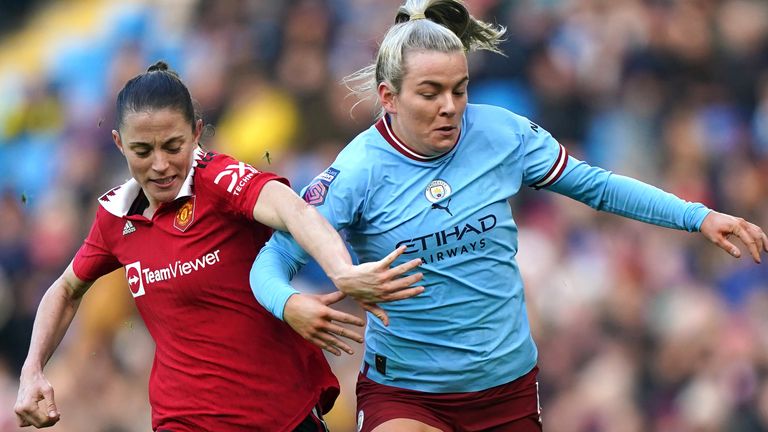 "There's also a balance between knowing the team that has got us where we are, who can and can't continue on that journey, but also celebrating they've got us to where we are based on the levels.
"It hasn't been luck this season. I know other teams have had injuries and we'll put that out there as a caveat. But we're not there to control that, if we get injuries, we have to find a way.
"The reality is we have a wonderfully-talented young squad, but we have to add the right people in. We have to add more experience, we have to add players that have different skills. There are little nuances and factors we need to look at to improve for next season.
"So I feel that we already have players that can step up to world-class level, but there's no doubt we have to go into this window and be aggressive in our targets and try and add extra talent to this already-talented squad."