The Arizona Cardinals release wide receiver DeAndre Hopkins, who arrived in a trade from the Houston Texans in 2020; Hopkins' release comes after the Cardinals were unable to find a trade partner for the 30-year-old, who is now free to sign with any team
Last Updated: 26/05/23 7:11pm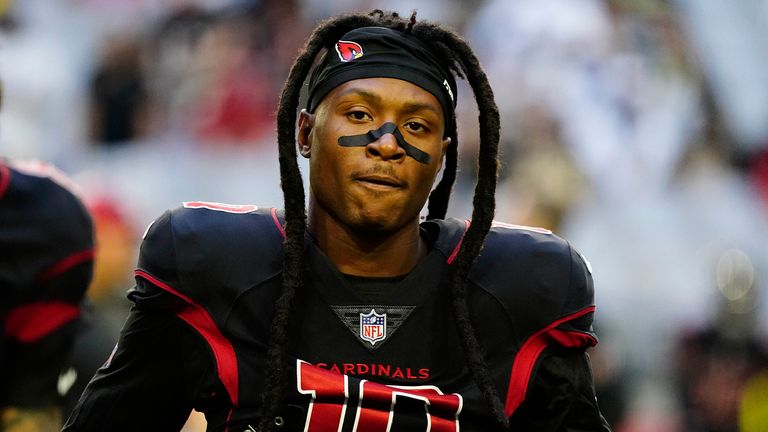 The Arizona Cardinals have released wide receiver DeAndre Hopkins after three seasons with them.
Hopkins' release comes after the Cardinals were unable to find a trade partner for the 30-year-old, who is now free to sign with any team.
The 2013 first-round pick arrived in Arizona as part of a trade with the Houston Texans back in 2020 and has since made 221 catches for 2,696 yards and 17 touchdowns in 35 starts.
Speaking on the 'I AM ATHLETE' podcast earlier this week, Hopkins explained what he is looking for in a team.
"What I want is stable management upstairs, that's something I haven't really had the past couple years of my career coming from Houston and then to Arizona," said Hopkins. "A QB who loves the game, a QB who brings everybody on board with him, not just himself but everybody around him, and a great defense. A great defense wins championships."
Twitter Due to your consent preferences, you're not able to view this Privacy Options
The three-time All-Pro receiver featured in a career-low nine games last season after being suspended across the first six weeks of the year for violating the league's performance-enhancing drugs policy.
He eventually finished the campaign with 64 catches for 717 yards and three touchdowns as Arizona slumped to a 4-13 record.
During his podcast appearance Hopkins made note of some of the quarterbacks he would be keen to work with before the end of his career.
"One of my favourite quarterbacks I've been watching since he came in the league is (Buffalo Bills quarterback) Josh Allen," he said. "He reminds me of a new-school Andrew Luck. I love Josh Allen. (Philadelphia Eagles quarterback) Jalen Hurts, he's a Houston kid, and he's a dog. (Kansas City Chiefs quarterback) Patrick Mahomes is another one I would love to throw me the ball.
"I got to go with the underdog, not as many people respect him as a throwing quarterback, but (Baltimore Ravens quarterback) Lamar (Jackson). I'm going to also have to go with my dude with the the Chargers (Justin Herbert)."
His departure leaves Marquise 'Hollywood' Brown, Rondale Moore and Greg Dortch as the Cardinals' receiving options, with former Stanford wideout Michael Wilson arriving in the third round of the 2023 Draft.
Hopkins' cap hit in dead money is $22.6m.