Even for its most highly-skilled practitioners, boxing is a punishing way of life. Karriss Artingstall is an Olympic bronze medallist and one of the stars of Britain's brilliant Tokyo Games team.
She is only three fights into her professional career, but it is not easy. In fact "it's horrible".
"Runs are hard, sparring's hard, bagwork's hard, padwork's hard, everything's hard," Artingstall told Sky Sports.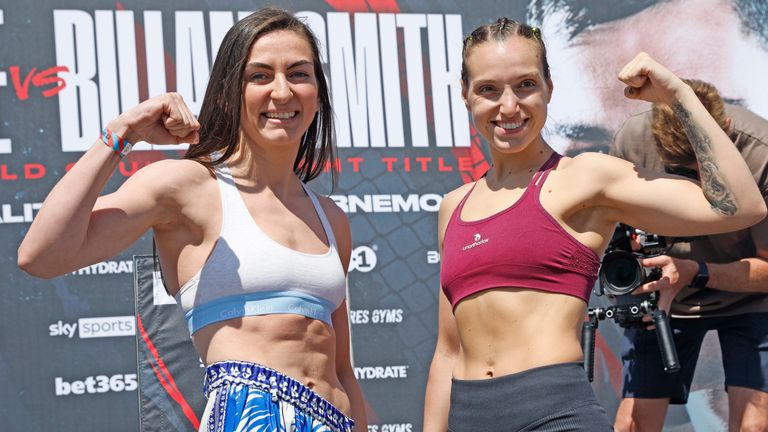 "It's horrible isn't it? It's a hard game. It's a very hard sport."
She continued: "Every time I step through the doors in the gym, as much as I'm dreading it or as much as I'm hating it, I just get on with it and put 110 per cent in so I know when the session's done I feel good about it. I know I've put everything into it."
With startling honesty, she admitted: "I hate training. The only thing I love about the sport is winning. The feeling that comes with winning – knowing that all the hard work's paid off, everything in the gym that you've done's paid off.
"All them early nights, all them sessions that you've dreaded doing, it's all paid off. Then getting your hand raised, even if I got my hand raised in front of nobody, it would still mean a lot to me. It's just winning. Winning's everything."
Her next fight, though, against unbeaten opponent Jade Taylor at the Vitality Stadium in Bournemouth on the Lawrence Okolie vs Chris Billam-Smith undercard, will be all the more special.
Please use Chrome browser for a more accessible video player
Highlights of Karriss Artingstall's last fight against Linzi Buczynskyj
"When there's a crowd there it's even better, when you've had your hand raised in front of all that crowd it's even better," she said.
"I know I've got to do that hard training to make sure I come out with a win."
The challenge motivates her though. "I've always been competitive. A sore loser a little bit, I suppose. I hate losing. I couldn't think of anything worse. Nothing makes you feel worse than losing and on the opposite side nothing makes you feel better than winning," she said.
"I've always been someone that needs to be hands on and challenged. I suppose boundaries need to be tested and I need to be pushed."
A similar motivation to what carried her through her experience as a soldier has also shaped her as a boxer.
"I found it hard to be disciplined. I found it hard someone shouting at me and telling me what to do. It's challenging being a soldier. Same with boxing I suppose, being disciplined, the physical side, mentally challenging," Artingstall added.
"Being courageous, disciplined, they all align with each other. The stuff that I learned in the army follows through with the boxing side of things as well.
"It must be the challenge that comes with it. But also, at the same time, I want to be better than the person that's stood in front of me. No matter what route I take in life I want to beat the person that's stood opposite me."
Suffering in camp instils self-belief in Artingstall.
"I'm confident I'm a very talented boxer and along with my work ethic it's an all-round absolute nightmare for anybody to be in the ring with," she said.
Live Fight Night
Saturday 27th May 7:00pm
"Come fight night I'm nervous, always am. Fight week I get nervous. But fight night first bell goes, I get into my comfort zone and then it's just me and whoever's stood in front of me and we're having a fight."
Then she is comfortable.
This eight-rounder against Taylor is a step up for Artingstall. But Taylor will have to be wary on Saturday. Artingstall has all the amateur skills of the sport, but she also warns: "I'd say one of my biggest strengths is fighting, not boxing, fighting – if anyone wants to stand toe-to-toe and have a fight with me I'm more than happy."
The suffering, the skill and the determination are all means to an end. In boxing at any level the fight and the win are, ultimately, all that matters.
Artingstall boxes on the Okolie vs Billam-Smith undercard live on Sky Sports Action and Sky Showcase from 7pm on Saturday night.