Coco Gauff defeated Karolina Muchova to make it through to Saturday's US Open women's final, but only after a more than 45-minute delay due to climate change protesters on Arthur Ashe Stadium.
Three people, wearing T-shirts bearing the words 'fossil fuels' began shouting after the first game of the second set, forcing play to be stopped.
Gauff and Czech 10th seed Muchova initially stayed on the court for about 10 minutes while security tried to deal with the situation, but they eventually left the court with the American teenager leading 6-4 1-0.
When they returned it was the 19-year-old great American hope who made it through to her first US Open final, sealing a famous 6-4 7-5 victory on her sixth match point.
Please use Chrome browser for a more accessible video player
Gauff and Muchova were forced to leave the court after climate change protesters caused a disruption on Arthur Ashe stadium
Please use Chrome browser for a more accessible video player
Gauff paid tribute to Naomi Osaka and said she's going to watch some anime to celebrate her victory
"Some of those points, it was so loud, and I don't know if my ears are going to be OK," said Gauff. "Thank you guys this is crazy.
"I grew up watching this tournament so it means a lot to be in the final. But the job is not done, so hopefully you can back me on Saturday."
Gauff will face new world No 1 Aryna Sabalenka after the Belarusian battled back from being bageled in the opening set to defeat Madison Keys 0-6 7-6 (7-1) 7-6 (10-5) after two hours and 32 minutes in a semi-final which finished just before 1am local time.
How Gauff made it through to Saturday's final…
Please use Chrome browser for a more accessible video player
Gauff finished off a spectacular 40-shot rally to earn a sixth match point, before sealing victory to reach her first-ever US Open final
Gauff took the opening set and was 1-0 up in the second before protesters disrupted play for more than 45 minutes.
When both players returned they at least seemed to be able to put the incident behind them when the match resumed.
Muchova had treatment on what appeared to be an abdominal injury during the stoppage.
The Czech 10th seed saved a match point on the Gauff serve and five more on her own in the next game.
Please use Chrome browser for a more accessible video player
Gauff and Muchova went at it hammer and tongs in this stunning rally
But the 19-year-old eventually converted at the sixth attempt when Muchova went long to reach her second Grand Slam final.
Gauff, who lost the 2022 French Open final to Iga Swiatek, will now be looking to become the fourth American woman to win the US Open this century after Serena Williams, Venus Williams and Sloane Stephens.
Gauff vs Muchova: Tale of the Tape
| | | |
| --- | --- | --- |
| 1 | Aces | 2 |
| 2 | Double Faults | 2 |
| 61% | 1st serve win percentage | 54% |
| 67% | 2nd serve win percentage | 47% |
| 4/9 | Break points won | 3/4 |
| 13 | Total winners | 15 |
| 25 | Unforced errors | 35 |
| 73 | Total points won | 58 |
How the protest unfolded and what was said…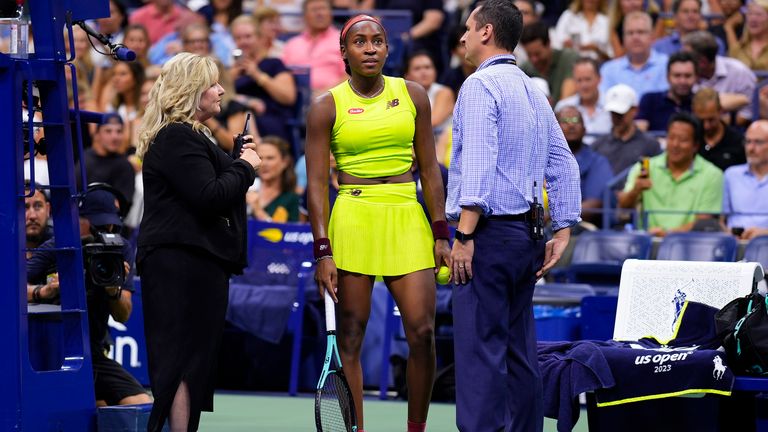 With Gauff up a set and holding serve to open the second, a disturbance erupted in the upper bowl of Arthur Ashe Stadium and shouting began, disrupting play.
Photographs of the scene showed three protesters wearing shirts with the slogan, 'End Fossil Fuels'.
As players looked into the stands, security flooded into the section around the disturbance. Television showed more than a dozen law enforcement officers in the section as one protester glued his feet to the floor.
Players left the court and waited for play to resume.
A USTA statement on the stadium protesters read: "Following the first game of the second set in the Gauff-Muchova match, play was halted due to a protest conducted by four spectators.
"Three of the four protesters were escorted out of the stadium without further incident. The fourth protester affixed their bare feet to the floor of the seating bowl.
"Due to the nature of this action, NYPD and medical personnel were needed in order to safely remove this individual from the stadium. The four protesters were taken into NYPD custody.
"In total, 49 minutes elapsed before play resumed."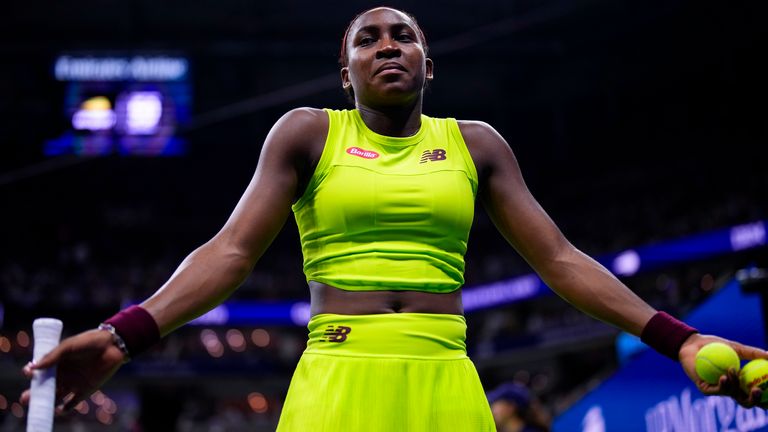 US Open Tournament Director Stacy Allaster told ESPN: "There's no doubt in a 24,000-seat stadium – hopefully people don't get ideas. We know in these events, environmental protestors use the platform. Security will be resuming along with NYPD to see what else we can do to prevent it in the future."
Just Stop Oil protesters interrupted play at Wimbledon in July, releasing orange ticker-tape mixed with jigsaw puzzle pieces during matches.
Last year's French Open semi-final between Casper Ruud and Marin Cilic also had to be halted after a woman tied herself to the net.
How Sabalenka denied the US Open crowd an all-American final
Please use Chrome browser for a more accessible video player
Highlights of Madison Keys against Aryna Sabalenka in the semi-final of the US Open.
Second seed Sabalenka came from a set and a break down to book a Saturday showdown with Gauff.
Keys announced herself inside Arthur Ashe Stadium as she raced through the first set in just 30 minutes.
The 17th seed then moved 4-2 up in the second and served for the match at 5-4, only for Sabalenka to break her to love and begin the comeback.
The Belarusian dominated the tie-break and the pair exchanged breaks in the third before it headed to the inevitable deciding breaker.
When Sabalenka got to 7-3 ahead she thought she had won the match, forgetting it was now first to 10, and dropped her racket in delight. But she managed to refocus before wrapping up the victory.
Sabalenka said: "I thought we played a tie-break up to seven. I was all over the place. Thanks team for reminding me it's up to 10.
"She played incredible tennis, another level. Somehow, I don't know how actually I turned around this match. Being in the final of the US Open for the first time means a lot."
The US Open on Sky Sports
Please use Chrome browser for a more accessible video player
Roger Federer has showcased his superb through-the-leg 'tweener' shots on multiple occasions at the US Open
Tennis is back on Sky, adding to the existing sports portfolio and reaffirming the broadcaster as the home of live sport in the UK & Ireland.
Sky Sports' new mixed reality studio features multiple custom built LED screens, integrated light 'sabres', and an open canopy roof, making the space alive with colour and energy to reflect the vibrancy of the last Grand Slam of the year.
Please use Chrome browser for a more accessible video player
Rafael Nadal hit an incredible shot around net against Marin Cilic in 2019, much to Tiger Woods' delight
Please use Chrome browser for a more accessible video player
Relive Andy Murray's rollercoaster career at the US Open, which saw him claim his maiden major title in 2012
With integrated AR capabilities, a versatile LED floor, and a 'fourth wall', the viewer will be transported to the Arthur Ashe Stadium in a 360-degree immersive environment. Our tennis experts will take the viewer into the eyes of the players for expert Hawkeye analysis and insight as the tournament progresses.
The technology involved allows us to add an entire new dimension and will bring customers closer to the action.
Highlights of matches will be available across Sky Sports TV and our social media platforms.
Video highlights will also be available of the Sky Sports website and app, where there will also be a daily live text commentary on the Sky Sports website and app, as well as live scores, reports, analysis and features.