The NBA has introduced new rules that will allow teams to only rest one of their star players in each game this season.
The league's board of governors want to ensure its star players appear in more games, particularly nationally televised matchups and the in-season tournament that is being added this year.
The new rules focus primarily on star players – someone who has been an All-Star or on the All-NBA team in any of the prior three seasons. There are 50 players who fit into the star category.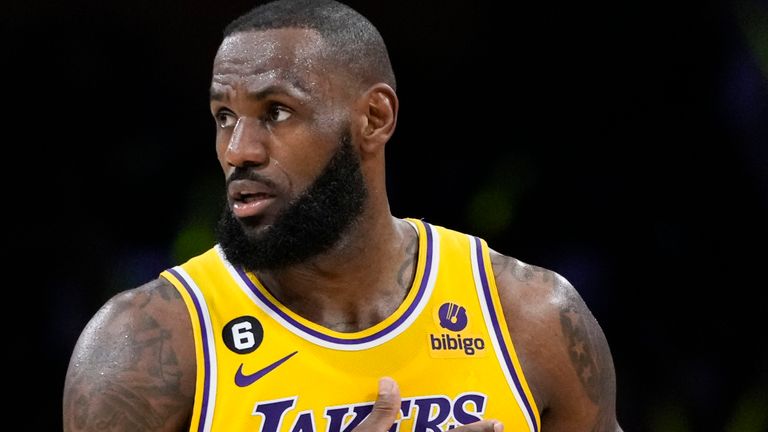 The league will have the ability to penalise teams that violate the policy by fining them $100,000 (£80,000) for the first infraction and $250,000 (£250,000) for the second. Each successive violation will increase by $1 million (£800,000).
"It's a shared view by everyone in the league, it's not just coming from the league office," NBA Commissioner Adam Silver said. "I think whether it's our teams, our players association, individual players, I think there's an acknowledgement across the league that we need to return to that principle that this is an 82-game league.
Please use Chrome browser for a more accessible video player
NBA star Jimmy Butler stole the show at a US Open charity event by winning a point against defending US Open champion Carlos Alcaraz
"I think there's a statement of principle that if you're a healthy player in this league, the expectation is that you're going to play.
"What we've tried to do as the league office is work through all the different issues recognising the genuine concern from the fans and of course the media that's paying for the opportunity to broadcast those games."
The NBA also wants teams to maintain a balance between the number of one-game absences a star player has at home and on the road, as well as refrain from any long-term shutdowns where a star player stops playing games.
Please use Chrome browser for a more accessible video player
LeBron James posted a video on his social media of his son Bronny showing off his musical skills as he continues to recover from a cardiac arrest
The league will allow teams to submit written requests in advance for older players for back-to-back games. This is for a small pool of stars who are either 35 or older at the start of the season or have played in over 34,000 regular-season minutes or 1,000 games in their careers. LeBron James, Kevin Durant and Stephen Curry all fit in that category.
Teams will be able to make other requests to have players miss games that include personal reasons, player's prior injury history and end-of-season flexibility.
"The Players Association was very much a part of it," Silver said of discussions on the new policy. "We had extensive discussions with them and then with individual groups of players, particularly the veterans in the league, about how they thought we should be approaching it."