Toto Wolff says Mercedes "are looking from the sidelines with curiosity" at Felipe Massa's legal challenge over 2008 world championship; Massa is seeking to get 2008 Singapore GP result annulled due to the Crashgate scandal; Massa lost out on the 2008 title by one point to Lewis Hamilton
Last Updated: 15/09/23 5:03pm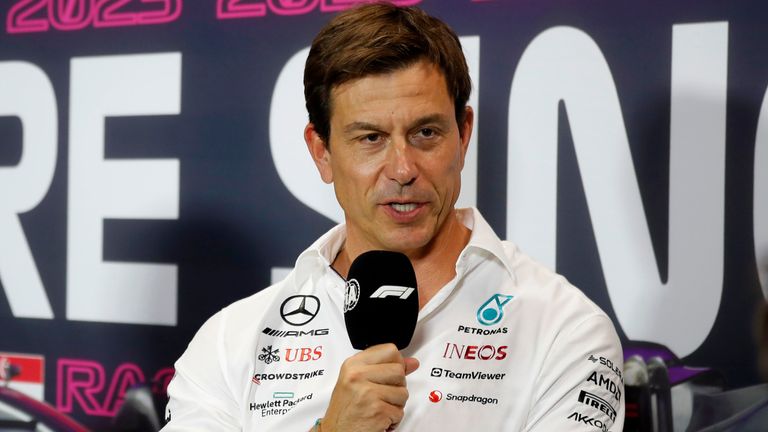 Toto Wolff says Mercedes are following Felipe Massa's legal case around the 2008 world championship "with interest" as the outcome will "set a precedent".
Massa lost the 2008 title by one point to Lewis Hamilton, who drove for McLaren at the time, and the Brazilian is developing a legal case arguing that the result of that year's Singapore GP should be annulled due to the 'Crashgate' scandal, whereby Renault told Nelson Piquet Jr to crash intentionally to benefit his team-mate Fernando Alonso, who eventually won.
Massa sought legal advice after former F1 supremo Bernie Ecclestone was quoted in March as saying he and former FIA president Max Mosley knew in 2008 that Piquet's crash was deliberate but had not acted.
F1's regulations state that the season's results are final once the world championship trophy is handed out at the end-of-season prize-giving awards.
Speaking on Friday, Wolff said the case was "interesting to follow" for Mercedes.
"Clearly not something that anybody saw coming," Wolff said in Singapore.
"The rule is pretty clear in Formula 1. There's a civil case behind it, it will certainly set a precedent whatever it is.
"We are looking from the sidelines with curiosity."
That curiosity is how the outcome could influence any action from Mercedes over Lewis Hamilton's controversial title loss to Max Verstappen in 2021.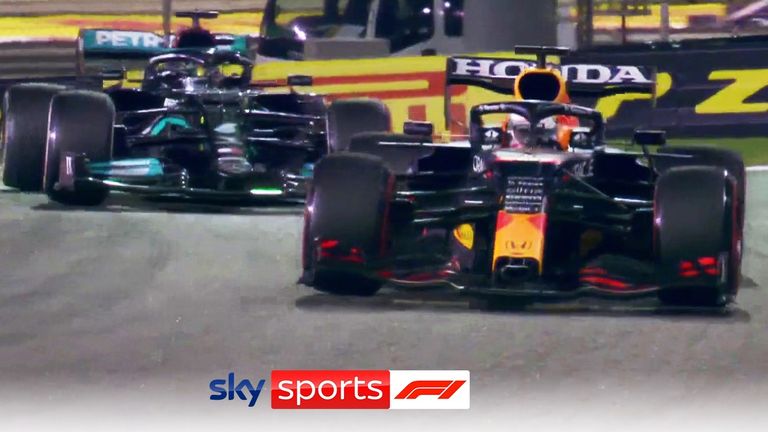 Please use Chrome browser for a more accessible video player
Max Verstappen passes Lewis Hamilton on the final lap in Abu Dhabi to win the 2021 F1 Championship!
Max Verstappen passes Lewis Hamilton on the final lap in Abu Dhabi to win the 2021 F1 Championship!
Hamilton lost the title on the final lap of the season-ending Abu Dhabi GP after race director Michael Masi contravened F1 regulations with his handling of the late Safety Car and his allowing of one final racing lap between Verstappen and Hamilton.
Masi called the Safety Car back into the pit lane without it having completed an additional lap as required by the Formula 1 Sporting Regulations and only allowed the five lapped cars between Hamilton and Verstappen to unlap themselves and not all lapped cars.
Verstappen, on fresh tyres, subsequently overtook Hamilton on the race's final lap to claim the race win and world title.
Mercedes withdrew their appeal against the race result ahead of the 2021 prize-giving ceremony, with Verstappen subsequently confirmed as champion.
In March last year, the FIA confirmed "human error" was a factor in the 2021 Abu Dhabi GP title controversy, but said race director Masi acted in "good faith" and the results from the race and championship are "valid".
Pressed on his curiosity and race management influencing a race result and whether the 2021 title outcome could be reopened if Massa's case proved successful, Wolff replied: "The FIA commented on the 2021 race with a clear statement.
"So that is why we are looking at it with interest."
Speaking on Thursday, Hamilton said of Massa's legal case: "I'm really not focused on what happened 15 years ago or two years ago.
"I'm focused on right now and how to help my team build towards winning another world championship and the future."
Sky Sports F1's live Singapore GP schedule
Saturday September 16
10.15am: Singapore GP Practice Three (session starts at 10.30am)
1pm: Singapore GP Qualifying build-up
2pm: Singapore GP Qualifying
3.45pm: Ted's Qualifying Notebook
Sunday September 17
11.30pm: Grand Prix Sunday: Singapore GP build-up
1pm: THE SINGAPORE GRAND PRIX
3pm: Chequered Flag: Singapore GP reaction
4pm: Ted's Notebook
Next up for the F1 circus are the stunning streets of Singapore under the lights. All sessions from the Singapore GP will be live on Sky Sports F1 this weekend. Stream F1 on Sky Sports with NOW. Cancel anytime