England's cricketing summer featured a drawn Women's Ashes series, before T20I defeats and ODI victories over Sri Lanka. We look at the highs and lows for Heather Knight's side as they build for next year's T20 World Cup in Bangladesh…
The highs
Beaumont and Bouchier boost England
Tammy Beaumont considered her future in the game after being dropped from England's T20 squad last year but showed this summer that she remains one of the very best batters around.
The opener scored an Ashes double century at Trent Bridge, making 208 from 331 balls a strike-rate of 62.84, and then demonstrated why so many feel she should be back in England's T20 team by becoming the first woman to score a ton in The Hundred, amassing 118 from 61 balls for Welsh Fire.
Please use Chrome browser for a more accessible video player
Tammy Beaumont hit 118 from 61 balls in The Hundred, for Welsh Fire against Trent Rockets
Ultimately, Beaumont saw her international T20 axe as a challenge to improve, explaining during a demo with Sky Sports how she looked to add to her boundary options and become the more free-scoring player England had requested she turn in to.
The 32-year-old has been stranded on 99 T20 international caps since January 2022 but if her form continues, she must surely come into consideration for a place at next year's T20 World Cup in Bangladesh, a tournament England will be aiming to win for the first time since 2009.
There is some competition for top-order spots, though. Not just in Danni Wyatt and Sophia Dunkley but also Maia Bouchier, who struck 95 from 65 balls in the final ODI against Sri Lanka.
Please use Chrome browser for a more accessible video player
Beaumont scored the first double hundred by an England player in Women's Tests
England unearth new pace aces
With the England bowling attack now shorn of the retired Anya Shrubsole and Katherine Sciver-Brunt, the selectors would have been hoping for young guns to step into the void and in Lauren Filer and Mahika Gaur they appear to have found some stars of the future but also the now.
Please use Chrome browser for a more accessible video player
Lauren Filer showed her pace and skill during the Women's Ashes Test in Nottingham
Filer, 22, added a real injection of speed into the bowling group, twice dismissing Australian great Ellyse Perry on her Test debut in June amid a four-wicket match haul and then rocking Sri Lanka in ODI cricket when was handed her first taste of that format later in the summer, causing all sorts of problems as she hammered away from back-of-a-length.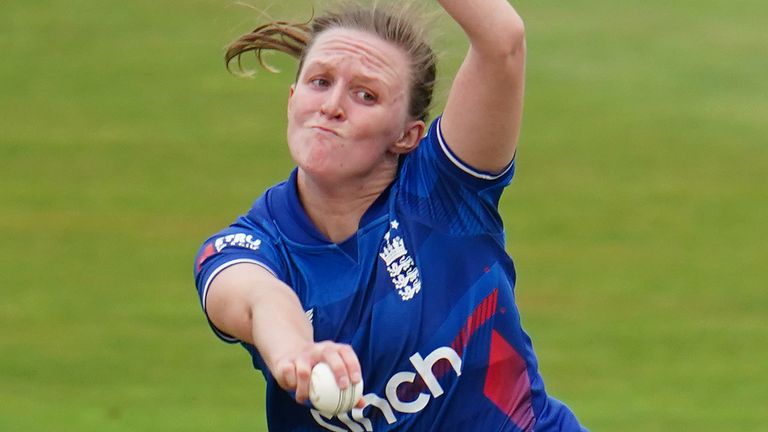 This time last year Lauren was working in Tesco. I think she actually got sacked for not turning up because she wanted to go and play cricket. She is by no means the finished article, there is a lot of polishing to do, but she is moving fast and there is more to come.
England batter Lauren Winfield-Hill told Sky Sports: "Filer offers something different. Everybody gets excited by extra pace and it is more challenging for a batter to face. She also hides the ball when she runs in, so she is hard to pick up, while she rushes you. She is on you quicker than you expect."
Gaur may not be as quick as Filer but she is even younger at 17 and taller at 6ft 3in. The left-armer, who made her international debut for the UAE at the age of 12, is able to generate plenty of swing and much of it late, as Sri Lanka captain Chamari Athapathtu found out when she was nicked off by Gaur in the T20I series and then bowled by her in the ODIs.
Please use Chrome browser for a more accessible video player
Fast bowler Mahika Gaur, 17, picked up three wickets on her ODI debut for England
Sciver-Brunt and Ecclestone: The best in the world
England are blessed with some excellent cricketers but in Nat Sciver-Brunt and Sophie Ecclestone they have a pair of truly outstanding ones.
Sciver-Brunt struck her team's fastest-ever ODI hundred, from just 66 deliveries, against Sri Lanka this week and now has three tons in her last four innings in the format after back-to-back centuries against Australia during the drawn multi-format series.
Sciver-Brunt is the top-ranked batter in ODI cricket and also the No 1 all-rounder, although she has not bowled of late due to a knee niggle. How very Ben Stokes of her!
Please use Chrome browser for a more accessible video player
Nat Sciver-Brunt hit England's fastest century in women's ODI cricket, from just 66 balls, against Sri Lanka
The 31-year-old hopes to be back in action with the ball on the tour of India in December and her being able to fulfil all facets of the game remains crucial if England are to turn their near misses in World Cups and Ashes into trophies.
England possess another world No 1 in Sophie Ecclestone, with the left-arm spinner, who is currently out of action with a dislocated shoulder, top of the T20I and ODI bowling rankings. She bagged 20 wickets across the Women's Ashes, including 10 in the one-off Test match when she bowled a whopping 77.1 overs.
Ecclestone's injury did not come at the worst time for England, with her absence allowing Charlie Dean and Sarah Glenn to take more responsibility in the spin attack against Sri Lanka, but they will want her available soon as they build for next year's T20 World Cup.
Please use Chrome browser for a more accessible video player
England spinner Sophie Ecclestone claimed a 10-wicket haul during the one-off Test against Australia at Trent Bridge
The lows
Struggles against spin must be rectified
England's hopes of winning every series they played in this summer were scuppered by spin. More precisely, their struggles batting against it.
In the Ashes Test against Australia, the home side had progressed to 55-0 in a chase of 268, only for off-spinner Ash Gardner to run amok with an eight-wicket haul as England were rolled for 178.
In the second women's Ashes ODI, they lost seven wickets to spin as Sciver-Brunt's unbeaten 111 came in vain and Australia earned the win they needed to retain the Ashes.
Then, in the T20I series against Sri Lanka, Knight's team crumpled twice in a row against slow bowling, skittled for 106 in Chelmsford – which was 66-8 before Dean top-scored with 34 from No 8 – and then 116 in Derby.
Please use Chrome browser for a more accessible video player
Highlights as England slumped to defeat against Sri Lanka, handing the tourists a historic first T20 series win over their opponents.
Please use Chrome browser for a more accessible video player
Watch highlights as Sri Lanka trounced England by eight wickets in the second T20 at Chelmsford
Improving his side's output against spin is a key goal for head coach Jon Lewis with the T20 World Cup taking place in Bangladesh before the 50-over version is held in India in 2025.
Lewis said: "People will watch us play spin and say, 'this is where we think we can exploit them' so I am really keen to work with the girls on playing spin and the options they have. There are lots of areas for growth."
What's wrong with Wong?
Last summer, Issy Wong burst on the scene to make her international debut in all three formats. In March, she claimed a hat-trick in the Women's Premier League. In June, she was the poster girl for the Ashes – but the England quick has had a difficult time of it since then.
Run-up and rhythm issues meant Wong did not figure at all in the Ashes, was dropped by Birmingham Phoenix in The Hundred, and had a dejecting England return against Sri Lanka.
Please use Chrome browser for a more accessible video player
England head coach Jon Lewis discusses Issy Wong's struggles this summer
After Wong was surprisingly selected in the second T20 at Chelmsford – a decision Sky Sports pundit and former Warwickshire seamer Charles Dagnall described as "appalling" – she bowled an error-strewn two overs; her first featuring three no-balls and wide, her second three consecutive fours.
Lewis said: "My way is to surround her with as much support as possible. We are having continual conversations about her game and how she is going to improve. We are really confident we have the answers.
"She is definitely in a trough but we are going to work hard. There is an incredible talent there and our job is to nurture that, make it better, and make her consistent."
Missed opportunity in the Ashes?
England definitely closed the gap on Australia this summer. In fact, there was no gap at all with a series comprising one Test, three T20s and ODIs ending 8-8 on points. A vast improvement for Heather Knight's side after being thumped 12-4 in the previous two series. But they will feel it could have been so much better.
England were always playing catch-up after slipping 6-0 down following defeats in the Test match and first T20, games they perhaps could have won.
Please use Chrome browser for a more accessible video player
The Sky Sports pundits reflect on one of the best Women's Ashes series, with England and Australia unable to be separated on points
They were 390-4 in their first innings in the red-ball game in reply to Australia's 473 before losing their last six wickets for 73 runs, while they then faltered from that promising start in the run chase and got Ash Gardner-ed. The opening T20, meanwhile, went down to the wire before Australia squeezed home with one delivery to spare.
England arguably played the better cricket across the series, winning four matches to Australia's three and proved they can go toe-to-toe with a side that had previously been all-conquering.
But they still only had a draw to show for it and with the Southern Stars enjoying home advantage in the next Ashes series in 2025/26, it could be even harder to regain the urn then.