Harry Kane maintains Bayern Munich always felt like the right choice for his next club as the England striker prepares to face Manchester United in the Champions League.
Kane left Tottenham for Bayern in a deal which could be worth up to £100m ahead of the summer transfer window closing.
Reports suggested United were one of the English clubs also interested in the 30-year-old forward.
"Obviously, over the summer I know there were some talks between a few clubs in the background, but Bayern were a team I was really interested and excited by," the England captain said ahead of Wednesday night's Group A opener at the Allianz Arena.
"There were not too many other discussions once they came in. It was between them and Tottenham to talk and then the deal got done.
"My focus is on here. Manchester United are a great club, a really big club as well. I just decided to come here and am really happy I have."
Kane warns Bayern against complacency against United
Kane warned against complacency when Bayern face Erik ten Hag's side, who have struggled for consistency so far this term and were beaten 3-1 at home by Brighton on Saturday.
"United have been going through a tough spell recently, but sometimes that can be really dangerous," he said.
"They are looking for a big response and we need to be careful of that.
"We are at home and want to dictate the game, to play the way we want to – but they have some threats as well who we have to be careful of."
Kane on Maguire: 'England are fully behind him'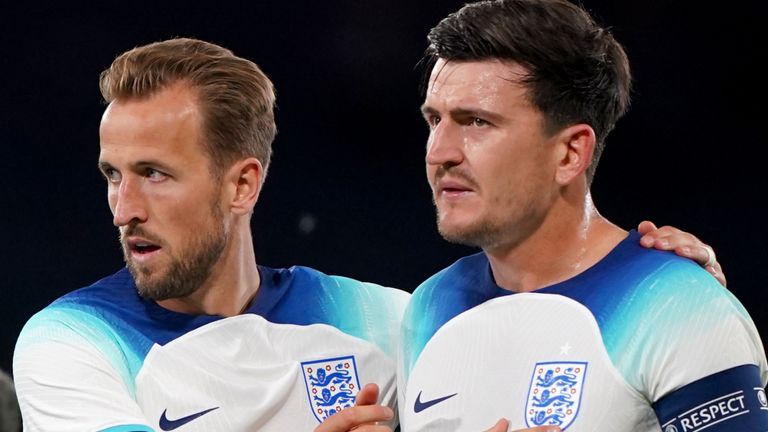 Kane could come up against England team-mate Harry Maguire, who was again singled out for criticism during last week's 3-1 friendly win over Scotland.
The England captain defended Maguire, saying he was one of his country's best ever defenders.
"I think H has come under some really unnecessary scrutiny," Kane said. "He has probably been scapegoated a bit in terms [for] the way the team have gone over recent times.
"He is a really good friend of mine. He is a great guy, a really hard-working professional.
Please use Chrome browser for a more accessible video player
The Football Show team explain how Ange Postecoglou has transformed Tottenham with his attacking brand of football.
"From an England point of view, he has been one of our best defenders in recent times – I would go as far as to say one of our best defenders over the history of our country in an England shirt.
"It is part of our game now, you are scrutinised all over social media. But, knowing him, all he will want to do is work harder, to improve and get better, stay focused.
"We are fully behind him as a national team. The coach (Gareth Southgate) came out and backed him fully.
"There is always going to be noise around players. We have a really strong core within our England team, which is the most important thing going into big games and tournaments."
Kane: I can play better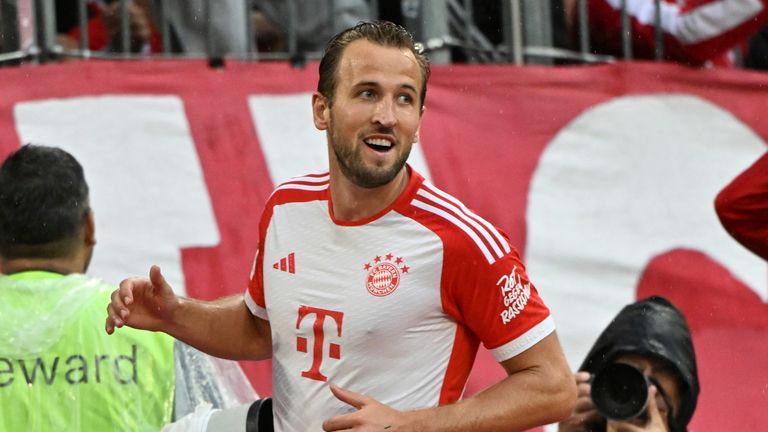 Kane has made a good start to life in Germany.
He has scored four Bundesliga goals for Bayern, including in the 2-2 draw against Bayer Leverkusen on Friday night.
Kane, who is set to make his Champions League debut for Bayern on Wednesday, said: "Being here now, I am just enjoying the new surroundings. I have been back and forth with the internationals and the birth of my fourth child.
Please use Chrome browser for a more accessible video player
Harry Kane got Bayern Munich off to the perfect start in their Friday night clash with Bayer Leverkusen, heading home at the far post to edge his side in front.
"I still don't feel I have fully settled into everything yet – that will take a bit more time – but over the course of the season I will get to know more about the club and speak to the big names who have played here before."
Kane added: "It has been a good start for me here. Whenever there is a big transfer, there is always a little bit more pressure and expectation going into the first few games to see how you start.
"I am really pleased to have scored the four goals so far. I think I can play better, and that will come with just getting to know my team-mates more, the system and the way we play. There is definitely room for improvement in my all-round game."
Please use Chrome browser for a more accessible video player
Highlights from the Bundesliga match between Bayern Munich and Bayer Leverkusen
Kane on Tuchel: 'He's always pushing us to improve'
Harry Kane is enjoying working with Bayern head coach Thomas Tuchel, who won the Champions League during his time at Chelsea.
"We have got a good relationship," England's record goalscorer said. "He is always pushing players to improve and get better – that has been no different with me.
"There has been no special treatment because I am a new player or a big player – he treats me the same as everyone else.
"I can learn a lot from a manager like him. He has managed some of the biggest clubs in the world and been really successful.
"We all know we can improve a bit better as a team and that will come throughout the season."
Kane keeping an eye on Spurs' results
Please use Chrome browser for a more accessible video player
Bayern Munich's Harry Kane hails Tottenham's start to the season in the Premier League and says he will always keep an eye on his former side.
Despite Kane's departure, Tottenham have made an impressive start under new head coach Ange Postecoglou this season and are unbeaten in the Premier League with four wins to sit second.
Spurs travel to north London rivals Arsenal on Super Sunday, live on Sky Sports (kick-off 2pm), and Kane insists he will keep an eye on his former club's results for the rest of his life.
Please use Chrome browser for a more accessible video player
The Football Show team explain how Ange Postecoglou has transformed Tottenham with his attacking brand of football.
Sunday 24th September 1:00pm Kick off 2:00pm
"Fantastic start – I am always keeping an eye on them and think I will keep an eye on Tottenham for the rest of my life," Kane said.
"I am really happy to see the team playing the way they are and, of course, to see their fans happy as well is a great thing.
"I am sure they will be excited to keep that up. They have a massive game coming up (against Arsenal on Sunday), so for sure I will see how they get on over the course of the season."
Tuchel: Everyone wanted Kane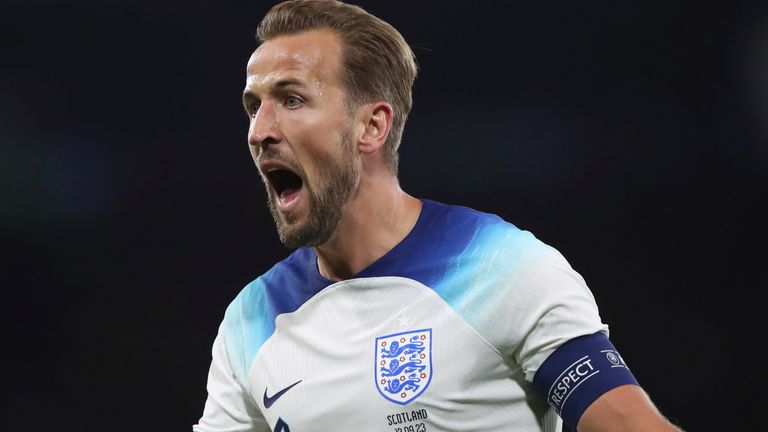 Meanwhile, in his pre-Man Utd press conference, Bayern head coach Thomas Tuchel insists every big club needing a striker would want to sign Harry Kane and that taking the England captain away from the premier League was a "big thing".
The former Chelsea boss said: "It's a big thing. We took the skipper of England out of England, out of the Premier League. It's a huge deal and a big transfer. We're very happy.
"Anyone in Europe who was looking for No 9 would have been happy to have Harry in the team. He makes your team better and gives you what you expect from a No 9: personality, goals, quality.
Please use Chrome browser for a more accessible video player
Bayern Munich head coach Thomas Tuchel hails the impact that summer signing Harry Kane has made at the club saying he has already made a huge difference the club.
"He can drop deep in a No 10 position, turn and use the speed of the players around him. He can arrive in the box at the right time, he has excellent finishing, he's a good penalty taker, so everybody wanted to have him.
"I'm not sure about what was going on at other clubs but we are more than happy he took the decision to join us and make us better.
"He will always be a difference maker in any game, not only in the big games and not only by goals. He gives us a lot of personality. With time he will make our players around him better. He will learn how to make them shine, use their skills. He will assist and not only score. He will be the difference and he is already the difference.
"Not only him but he is part of us making the difference. That is very important and that's why we relied heavily on this transfer. That's why we had a lot of confidence we are doing the right thing. He will prove us right, I am 100 per cent convinced, there is no doubt about it."
Tuchel: Man Utd are always dangerous
Bayern Munich boss Thomas Tuchel:
"I think it doesn't tell a lot about them because within a match you can't be sure against Manchester United, that's my experience. The moment you think you dominate or control the match is the most dangerous moment because they can suffer off the ball, can defend very deep, they know that they can rely on their great transition game with Rashford, Hojlund with great quality and pace. That's why we have to be very attentive, awake and smart to occupy the spaces.
"If we look at the points at the start of the season for Manchester United is not satisfying. If you look and analyse the last match there was a really strong 20 minutes where they could have scored against Brighton. To play against Brighton is always a difficult one because they have their own style. Many teams have difficulties against them but they were never out of that match against Brighton.
"It's always dangerous. There is so much individual quality in the team, especially in attack and their transition game."