FREE TO WATCH: Highlights from the clash between Aston Villa and Tottenham in the Premier League
Aston Villa's 2-1 home win over Tottenham perfectly encapsulated two sides heading in different directions.
Villa have a clear identity under head coach Unai Emery, who is averaging 1.96 points per game this season – the third-best rate of any manager to take charge of at least 10 Premier League games this term.
When the Spaniard was installed at the start of November, Villa were 14 points behind third-placed Tottenham in 16th. Following their win over Spurs, Villa are seventh and are now level on points with the north London side, who have slipped to sixth.
Villa are in with a real shout of finishing above Tottenham and it would be deserved. They are a club on the up with a real vision that Spurs could only dream of right now.
Aimless Tottenham are without a manager, a director of football and appear to be without a future plan.
A lifeless first half at Villa Park summed all of that up as Spurs failed to have a shot, had only one touch in the opposition box and registered an expected goals of zero.
The second half was better but ultimately Villa were the stronger side and took a deserved win.
The Midlands club are a model for as to how Spurs need to reset this summer by implementing a strong head coach in a cohesive hierarchal structure.
The gulf in the club's current states was reflected on the pitch on Saturday with Villa now believing they can qualify for European football at the expense of a directionless Spurs.
Declan Olley
Please use Chrome browser for a more accessible video player
FREE TO WATCH: Highlights from the clash between Southampton and Fulham in the Premier League
Some 190 miles further north at another port city, Liverpool's M&S Arena hosted the Eurovision Song Contest on behalf of Ukraine on Saturday evening.
Mae Muller carried the UK's hopes with I Wrote A Song, but if there were to be an anthem scripted for Saints' season, it would read something like 'Nul Points, Nul Points, Nul Points'.
When Southampton were last relegated from the Premier League in 2004/05, it took them seven years to win promotion back to the top flight – and that was via League One. They have now lost a club-record 24 league games this term – 12 of which have come at home.
Days spent bottom of Premier League
Southampton – 138
Leicester/Wolves – 44
Nottingham Forest – 32
Manchester United – 8
West Ham/Bournemouth – 7
Crystal Palace – 1
It is no wonder there were boos which greeted the final whistle and were directed at the players who stood motionless in the centre-circle for a time afterwards by those who had bothered to stay until the bitter end. One shot on target in a game they needed to win. It was a pathetic surrender.
Three managers and £150m spent across two windows has failed to arrest the slide. It is a club that has lost its spark. In truth, the fire burned out long ago.
This club were once the model of best practice. The famed 'black box' of scouting data was overflowing with the next bright thing – from Sadio Mane to Luke Shaw to Virgil van Dijk.
Lowest home xG total of season
| | | | |
| --- | --- | --- | --- |
| Leicester City | Arsenal | 25/02/2023 | 0.02 |
| Fulham | Manchester City | 30/04/2023 | 0.19 |
| Crystal Palace | Manchester City | 11/03/2023 | 0.21 |
| Southampton | Fulham | 13/05/2023 | 0.25 |
Captain James Ward-Prowse conceded: "Over the last 10 years, we had a consistent belief and structure that has wavered a little bit this season. It's going to be a testing time for everybody, but these are the times that make or break you as a player and as a club. We've done it before and we have to do it again. The standards of the football club have slipped away and that's ultimately why we've got relegated."
It is unlikely Ward-Prowse will stick around for the rebuild, but Southampton must now look to Fulham for inspiration as a club that have made a habit of swift returns.
Ben Grounds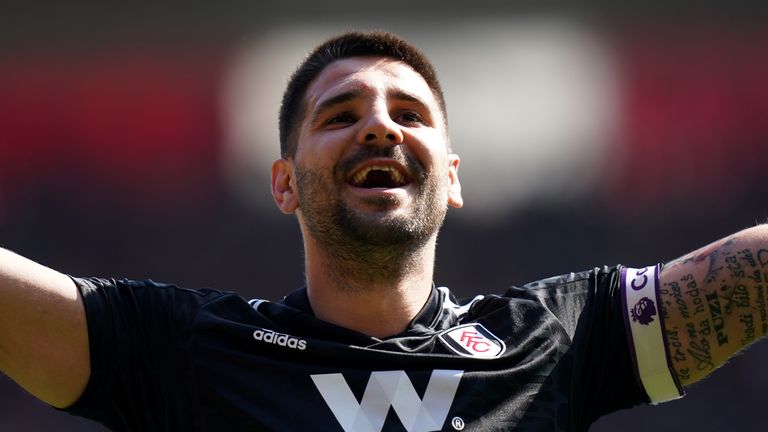 Southampton were in need of snookers to survive but Fulham – having made a mockery of those who tipped them as favourites for the drop – eventually made their superiority tell.
Prime Minister Rishi Sunak – a Saints fan – was among those in attendance on the south coast as the hosts' 11-season stay in the top flight ended in tame fashion.
He witnessed a team lacking confidence, ideas and urgency produce another feeble performance of a miserable campaign featuring three managers and just two home league wins – but he also saw the returning Aleksandar Mitrovic.
Please use Chrome browser for a more accessible video player
Following a convincing 2-0 win for Fulham over Southampton, that saw their opponents relegated to the Championship, Marco Silva reflects on an increasingly successful season
The Serbian, who was handed the lengthy suspension for grabbing referee Chris Kavanagh in his side's FA Cup loss at Manchester United on March 19, notched his 13th goal of the season in trademark fashion as he outmuscled Kyle Walker-Peters to power home a header.
A host of Serbia flags unfurled on the terraces greeted his reintroduction – and Fulham are in the mood to finish a memorable campaign strongly.
Marco Silva's men are comfortably in the top half, and the Portuguese has now called on his players to surpass the club's record total points tally in a Premier League season, which currently stands at 53. One more win would do it.
Ben Grounds
Please use Chrome browser for a more accessible video player
FREE TO WATCH: Highlights from the 2-2 draw between Leeds and Newcastle
Every team in the Premier League survival fight has a striker who has turned up in recent weeks.
Bournemouth are safe through Dominic Solanke's interventions, Nottingham Forest are nearly there after Taiwo Awoniyi's recent spike in form, while Everton and West Ham's recent rises can be put down to the return in fitness and form of Dominic Calvert-Lewin and Michail Antonio respectively.
But in Leeds they just have Patrick Bamford who has not been there when the big moments needed a calm head. Missed penalty versus Arsenal in October, late sitter against Leicester last month, missing through injury for much of the rest of this season.
And when he had the chance to put Leeds 2-0 up and cruising against Newcastle on Saturday, Bamford missed his mark with a poor penalty. It is a sign that the striker, once a big reason why Leeds stayed at the top-flight under Marcelo Bielsa but now deprived of belief and confidence, is not at the level required anymore.
Bamford's performance against Newcastle was not all bad. His link-up play helped to earn free-kicks and was summed up by creating the chance in which Leeds scored their opener.
Yet the fact a striker clearly lacking in scoring confidence is Leeds' best hope for goals is a reason why they are firmly in the relegation zone with two games to play.
Sam Blitz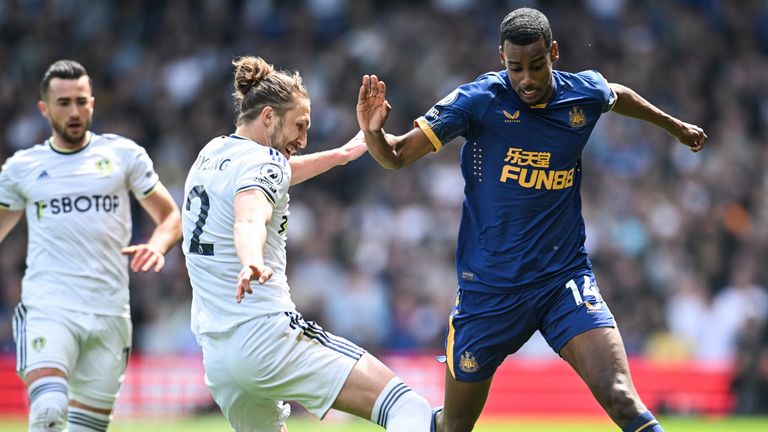 There was a clamour from all sides for Alexander Isak and Callum Wilson to play together. Eddie Howe answered those calls by selecting the pair for the first time in the Premier League against Arsenal and he kept the faith with the pair for the clash with Leeds. Newcastle have failed to win either game and haven't managed a goal from open play.
Wilson, playing through the middle and Isak off the left, did score twice from the spot in the epic 2-2 draw with Leeds but there was a clear lack of flow and creativeness. They created just 0.4 worth of expected goals from open play – their fifth lowest tally of the season.
Isak's glorious assist in the win at Everton from the left flank pointed towards him being potentially effective out there but in the last two starts, he's struggled to influence the game. Champions League qualification is well within Newcastle's grasp still but Howe will have to tweak that frontline in order to make sure their maintain their high standards in the remaining games. The experiment hasn't worked.
Lewis Jones
Please use Chrome browser for a more accessible video player
FREE TO WATCH: Highlights from the clash between Manchester United and Wolves in the Premier League
David De Gea's high-profile errors have created headlines this season but should not be allowed to detract from Manchester United's broadly impressive defensive record.
In his first year at Old Trafford, Erik ten Hag has crafted a defence that has kept 16 clean sheets in the Premier League – more than any other top-flight side.
Another shutout was added to the tally against Wolves, with De Gea primed to claim the Golden Glove for the second time, despite no player making more errors leading to goals in all competitions this season.
It must be pointed out that Wolves – already safe in the knowledge that they will remain a Premier League side next season – did little to threaten United's record during a performance lacking in any attacking threat.
But Ten Hag deserves credit for the work he has done with United's defenders, with the manager overseeing improvement from Aaron Wan-Bissaka and Victor Lindelof, while Luke Shaw is now arguably the top flight's best left-back.
All three impressed again on Saturday as Wolves were kept at arm's length and another valuable three points were secured.
Joe Shread
Daniel Bentley's inclusion in the Wolves XI raised eyebrows ahead of kick-off, with the performances of regular No 1 Jose Sa doing little to suggest he needed to be replaced.
But Wolves ensuring their Premier League safety ahead of the trip to Old Trafford perhaps encouraged Julen Lopetegui to give an opportunity to his back-up goalkeeper, who had waited patiently for his debut after joining from Bristol City in January.
While the 29-year-old did not help Wolves to victory at United in what would have been a dream debut, he could not have done more to ensure further top-flight football will be coming his way.
Bentley could do nothing to keep out Anthony Martial and Alejandro Garnacho's goals but finished the game with eight saves, the most by a goalkeeper in their first game in the Premier League since Fabri for Fulham against Crystal Palace in August 2018.
The former Arsenal, Southend and Brentford stopper also looked comfortable with the ball at his feet as he helped Wolves in their attempts to build from the back, ensuring Lopetegui's goalkeeper gamble could be repeated in their final two games of the season.
Joe Shread
Please use Chrome browser for a more accessible video player
FREE TO WATCH: Highlights from the clash between Crystal Palace and Bournemouth
As recently a few weeks ago, Crystal Palace's meeting with Bournemouth had the look of a relegation showdown. Instead, they came into it long safe from the drop, their progress continuing with a win which puts them level on points with Chelsea.
If they are now dreaming of bigger things, then it is largely thanks to Eberechi Eze. The 24-year-old has been outstanding of late and came into the game having scored four in six. Now it is six in seven.
What is most impressive is that he is doing this from a midfield berth, rather than as one of Hodgson's front three. He has responsibilities beyond scoring and creating but it is there, in and around the opposition box, that he really comes to life.
His opener showed his goalscoring instincts as he met Wilfried Zaha's cut-back, via a flick from Jordan Ayew, with space to beat Neto. His second showed his penchant for the spectacular. Technique, drive, execution. It was all there.
Neto had no chance of stopping his rasping shot and Bournemouth's defenders could do little to stop him from getting into the position, either. Eze was too quick and too sharp.
A top-half finish is beyond Palace this season, but with their final two games coming against Fulham and Nottingham Forest, they could yet finish above Chelsea. Beyond that, the talismanic Eze should have them setting their sights higher.
Nick Wright
Please use Chrome browser for a more accessible video player
FREE TO WATCH: Highlights from the clash between Chelsea and Nottingham Forest in the Premier League
Raheem Sterling has looked a shell of his former self in his first season at Chelsea.
Ahead of Saturday's visit of Nottingham Forest, the 28-year-old had gone 11 league games without a goal. By his own reckoning this has been one of the lowest ebbs of an otherwise glittering career.
However, after getting a shade of luck for his opener against Forest something seemed to click for the England international. The doubts seeped away, and Sterling began playing with freedom.
If sitting Felipe wasn't enough for his second goal, Sterling picked out the corner perfectly through a sea of Forest defenders to deliver a timely reminder of what he's all about ahead of the arrival of a new manager at Stamford Bridge.
Whatever shape this next evolution of Chelsea takes, Sterling must be accommodated.
Zinny Boswell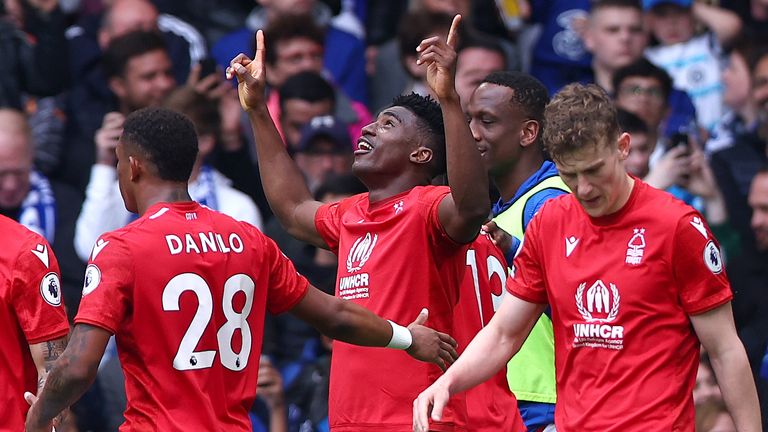 Taiwo Awoniyi is finding goalscoring form at the perfect time for Nottingham Forest.
Having spent four months out injured, the Forest striker "hit the ground running" on his return to the team, according to head coach Steve Cooper. But now, after seven games without scoring before Monday's thriller against Southampton, Awoniyi is turning good performances into goals.
Forest played to his strengths at Stamford Bridge on Saturday as they bombarded Chelsea with early crosses and, as Frank Lampard described them, "loopy long throws". For both goals, Awoniyi was ready and waiting in the perfect spot to capitalise.
The 25-year-old has four goals in his last two games, becoming the first player to score back-to-back doubles for Forest since 1995.
The last man to do that was Bryan Roy, who scored twice three games running. How Forest could do with Awoniyi recreating such a run against title-chasing Arsenal next Saturday, live on Sky Sports.
Having an in-form striker could be the difference in the relegation battle.
Zinny Boswell