Gareth Southgate is expected to name his strongest possible England squad on Wednesday, and he will tell his players he wants them all to report for duty for next month's European Qualifiers against Malta and North Macedonia.
Sky Sports News has been told FA officials are concerned some of England's elite might be unavailable for the international camp after an unusually long season.
But Southgate will stress the two games are far from a "gimme", and both are vital to building the squad cohesion which can help England win the tournament in 2024.
The England manager has decided to name his squad early for the double-header, to try to give a message to his key players.
Southgate usually announces his squad on the Thursday before the final Premier League matches prior to an international break. This time, he is announcing his selections more than a week early – at Wembley, on Wednesday – more than three weeks (23 days) before England's first match.
That is away in Malta on June 16, and it comes 19 days after the final Premier League match-round. Southgate wants to notify his players early so they can adapt their holiday plans accordingly.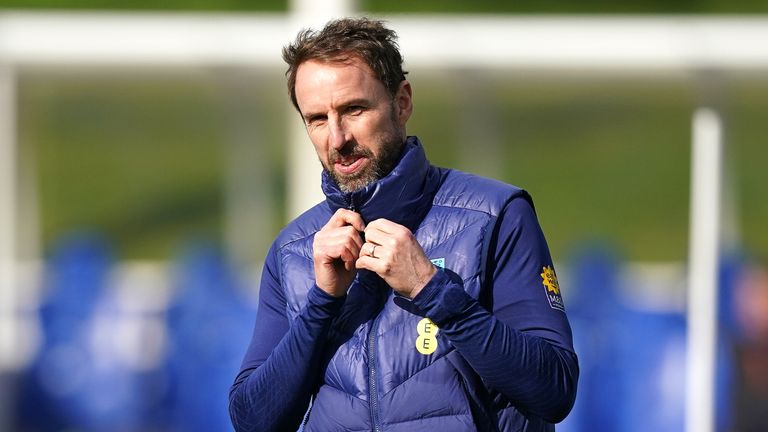 One club official said: "It's a big ask. Expecting players to postpone their summer holiday by three weeks – which is already very short this year – just so they can play two meaningless internationals that England could win comfortably with their B-team."
Because of the winter World Cup, this season is longer than the last campaign: Premier League matches finish a week later, the Champions League final is two weeks later than last season.
In 2022, England finished their summer round of international matches on June 14 – two days before they are due to start this summer's international games.
Please use Chrome browser for a more accessible video player
Gary Neville was full of praise for Trent Alexander-Arnold after his starring role in Liverpool's 3-0 win at Leicester City
That means, with most Premier League squads returning to pre-season training around July 10, the "closed-season" for elite players is shorter, and there is a concern some may be encouraged to miss the two international qualifiers against nations perceived as "lesser" opposition.
Officials in the England set up have become increasingly frustrated that some of the country's top players have been unavailable to Southgate in recent camps – with injuries ruling out Marcus Rashford, Reece James, Mason Mount and Raheem Sterling.
Manchester City winning through to the Champions League final is less of a problem for England this season compared with previously.
The final in Istanbul is scheduled for Saturday June 10 – six days before England's Euro qualifier in Malta.
In 2021, when Manchester City faced Chelsea in the Champions League final, there were just four days between the European showpiece in Porto and England's European Championship warm up match against Austria.