The last time another side won the Bundesliga was in 2011/2012 under Jurgen Klopp; now Edin Terzic has a golden opportunity to follow in the Liverpool manager's footsteps; Dortmund lead Bayern by two points and need to beat Mainz on Saturday to guarantee their status as champions
Wednesday 24 May 2023 22:51, UK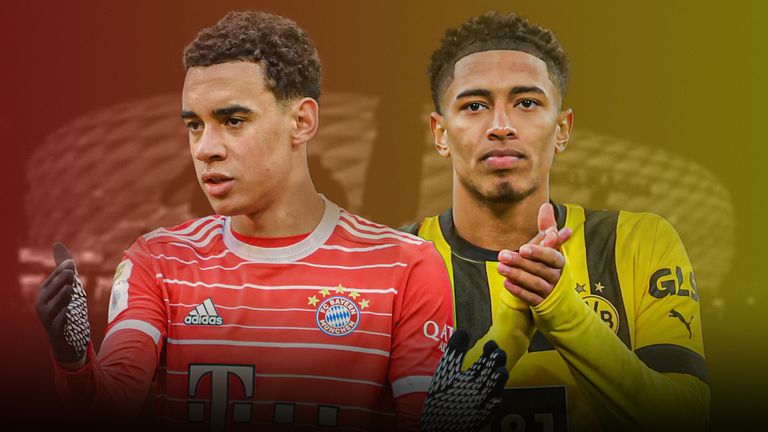 Borussia Dortmund are just one win from ending Bayern Munich's 10-year period of dominance in the Bundesliga – and you can watch all the final day drama unfold live on Sky Sports on Saturday.
The last time another side won the Bundesliga was in 2011/2012 when Jurgen Klopp led Dortmund to the title. Now Edin Terzic has a golden opportunity to follow in the Liverpool manager's footsteps.
Bayern had the title in their hands until last Saturday when they were beaten 3-1 at home by RB Leipzig. Dortmund capitalised with a 3-0 win against Augsburg the next day to put themselves in the ascendancy.
Watch the Bundesliga title race go to final day on Sky Sports
Borussia Dortmund vs Mainz – Sky Sports Mix, free on Sky Sports app and YouTube
Cologne vs Bayern Munich – Sky Sports Arena, free on Sky Sports app and YouTube
With just one game remaining, Dortmund lead Bayern by two points and need three points against Mainz on Saturday to guarantee their status as champions due to their rivals' superior goal difference.
Live Bundesliga
Saturday 27th May 2:20pm
Should Thomas Tuchel's Bayern slip up against Cologne, the title will be Dortmund's.
As it's the final day of the Bundesliga all games will be kicking off at the same time – 2.30pm on Saturday. Both Bayern and Dortmund's matches will be shown live on Sky Sports, so you can keep across every twist.
Watch Borussia Dortmund vs Mainz on Sky Sports Mix or for free on Sky Sports app and YouTube.
Watch Cologne vs Bayern Munich on Sky Sports Arena or for free on Sky Sports app and YouTube.
The last team that beat Bayern to the title