Luton captain Tom Lockyer was able to celebrate his team's promotion to the Premier League from hospital in a stable condition after collapsing during the Championship play-off final at Wembley.
Lockyer fell to the ground untouched while backpedaling early in the game against Coventry and then seemed to collapse as he tried to get back up. The defender received medical attention for several minutes before being carried off on a stretcher.
During the game, Luton posted an update on social media, which stated: "After collapsing on the pitch, Tom Lockyer has been taken to hospital for further tests. He is responsive and talking to his family, who are with him."
His father Steve later posted a picture of his son surrounded by family and friends from hospital capturing Luton's historic moment.
Just nine years on from ending their five-season stretch in the Conference Premier, the Hatters are celebrating returning to the top flight for the first time since 1992.
Edwards' side took the lead after 23 minutes when Jordan Clark slammed home after excellent work by Elijah Adebayo on the left flank, but Gustavo Hamer – who was later taken off injured – fired a stylish equaliser, which forced extra-time.
The 30 added minutes failed to produce a winner, with Fankaty Dabo's missed penalty sending the Hatters up to the Premier League for the first time in 31 years and after a decade of financial hardship. They are the first team to go from the top tier to non-League and back.
Please use Chrome browser for a more accessible video player
Highlights of the Sky Bet Championship play-off final between Coventry and Luton
Speaking after the game, Luton boss Rob Edwards told Sky Sports: "It feels incredible but the only thing I'm thinking of right now is Tom Lockyer. He's been immense for us this season. Health and family is the most important thing and I don't care right now until he is alright – I know he's alright.
"A few of the guys have spoken to him in hospital. He's getting really well looked after. That's where my head is at the moment. It felt a little bit wrong to celebrate at the time. I just felt emotional."
After the game, the Luton players held up Lockyer's No 4 shirt during the celebrations.
Edwards added on his captain: "I can't speak highly enough of him and I'm really pleased he's okay.
Please use Chrome browser for a more accessible video player
Luton Town players chant their captain Tom Lockyer's name after winning the Championship play-off final
"I've got to say huge credit to Mark Robins and Coventry, and commiserations. I know how much they've been through and the job he's done has been incredible.
"It was so tight. You've not been able to separate us over three games, all the way to penalties. He deserves so much credit. The job he's done, I couldn't have done that. I know they'll be back stronger. Unbelievable fanbase, an amazing club. It was our day but I do feel for them as well.
"I am incredibly proud of my group of players. For Locks, who's been our best player this season, to go off after four or five minutes, for the lads then to organise themselves, deal with seeing their captain coming off like that emotionally in this atmosphere on the biggest day they dealt with that so well.
"Our performance after that in the first half was incredible."
How Luton players and staff reacted to promotion
Luton's Dan Potts on Sky Sports Football:
"I'm gutted for Locks (Lockyer), he deserved to be there holding that trophy. Hopefully we'll be able to see him tonight."
Please use Chrome browser for a more accessible video player
Dan Potts shares what promotion to the Premier League means to Luton Town after playing for the club for nine years
Luton CEO Gary Sweet on Sky Sports Football:
"I hope Locks is OK. My heart goes out to him. He's having tests in hospital. He's been monumental this season. It feels wrong to celebrate without him.
"I don't know how we recover that. We've got to celebrate it, there's 36,000 fans with us. This is also for them and the town of Luton. I've got loads of council members and people who are every bit with us on this journey and this is for them as well."
Please use Chrome browser for a more accessible video player
Pelly-Ruddock Mpanzu and Carlton Morris describe their feelings following Luton's promotion to the Premier League and reveal their plans for a week-long celebration! 
Luton's Pelly-Ruddock Mpanzu on Sky Sports Football:
"I've completed football! I'll retire this summer! It's been a journey, through the highs and lows but you've got to believe in yourself. Here I am, a Premier League player.
"The party is tonight, tomorrow, Monday, Tuesday, Wednesday and then Thursday – VEGAS!"
Luton's Elijah Adebayo on Sky Sports Football:
"This group is special. We've been practising all week on penalties and stuck to the routine. A special day.
"Days like today are for the fans, especially those that saw the team relegated to the Conference."
Please use Chrome browser for a more accessible video player
Luton Town lift the Championship play-off winners' trophy after beating Coventry on penalties to seal promotion to the Premier League
'Edwards had huge shoes to fill' | 'This is a special group'
Jobi McAnuff on Sky Sports Football:
"Last year Luton had the huge disappointment of missing out when everyone said they over-achieved to even get into the play-offs. To regroup, go again, add to the group with the right personnel and actually be better again – you look at some of the other clubs that didn't even get close to getting into the play-offs – West Brom, Watford – is an incredible achievement.
"[Rob Edwards] might say all the managers that have gone before him laid the foundations, yes, but he had huge shoes to fill. He had a bruising experience at Watford, came back very quickly and clearly identified what he needed to do to make this team better than last year – and he's been able to do that."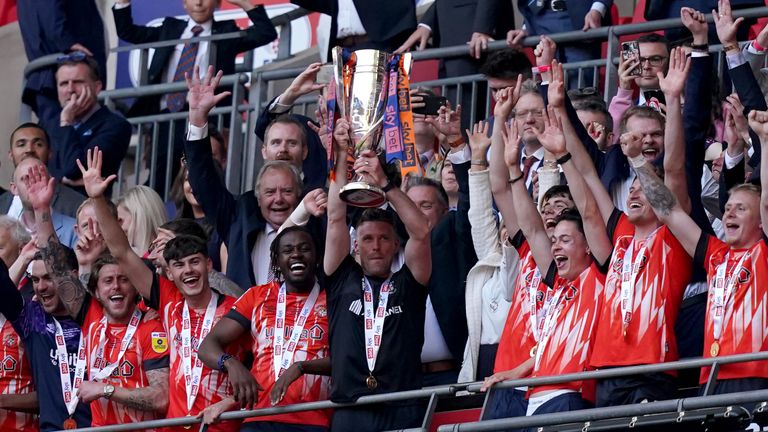 Keith Andrews on Sky Sports Football:
"I think the next week could be very, very lively. The players are so humble and I think that goes back to their recruitment. You've got to recruit the right people.
"What they have achieved is absolutely incredible."
Don Goodman on Sky Sports Football:
"Getting over losing in the play-offs is one of the hardest things I ever had to do. You've got to pick yourself up and get yourself through pre-season to go again.
"So for Luton to get over the disappointment of last season, and to get over losing their leader Nathan Jones at the time they did and buy into the new man. It's not always as straightforward as that.
"You buy into somebody because you have a feeling about the way they are. You get first impressions and the first impressions of Rob Edwards are his humbleness and how he wants his teams to play. He's got these boys to buy into what he wants, and the continuation of what was already there. All credit to each and every one of them."