UFC middleweight champion Israel Adesanya looks to push onto "bigger dreams" as he takes on Sean Strickland at the Qudos Bank Arena in Sydney, Australia.
This Saturday night at UFC 293, the champion returns to the cage following a stunning stoppage victory over arch-rival Alex Pereira in Florida earlier this year. After suffering the first defeat of his career at middleweight to the Brazilian knockout artist, Adesanya ran it back with his rival and delivered an emphatic victory.
Adesanya landed a huge counter right hand, followed up by a hammer fist as he halted 'Poatan', to reclaim his middleweight title at UFC 287 in April.
The Nigerian-born Adesanya, who lives in New Zealand, had a long-standing rivalry with Pereira, having lost two previous kickboxing bouts against the same opponent by knockout.
Please use Chrome browser for a more accessible video player
Watch as Israel Adesanya receives a hero's welcome by fans performing the Haka in Auckland
"Experiences like that shape you," Adesanya told Sky Sports. "Experiences in general shape you. But those ones are really extreme.
"I lost on one of the biggest stages in the world, Madison Square Garden in New York [against Pereira in the UFC], and I'm okay.
"In the last one where I shocked the world, and then my people who really love me, felt the happiness I was talking about in that moment because I share that with the world.
"That was something. These are moments that shape you because of, not just the fights themselves, but what you had to go through to get to those fights."
Adesanya was visibly full of emotion after his victory over Pereira, but insists he does not play too much significance on his success in MMA.
"There's more to life than fighting," he said. "That's the thing with me. I think that's what actually helps me deal with the loss in November. I've had bigger losses in life. This is nothing."
Now, he returns to his Oceanic region to continue his dominance in the division.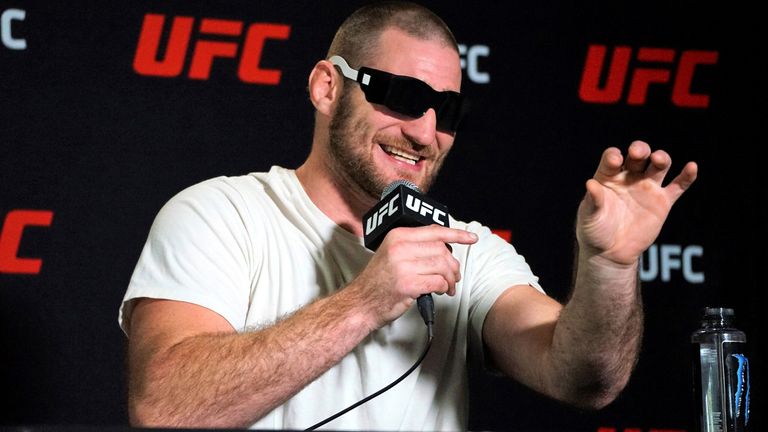 Standing on the opposite side of the octagon in Sydney will be Sean Strickland. The American won six bouts in a row from 2018, until he met Pereira himself, suffering a devastating TKO loss in the first round. That was followed by a split-decision loss to former title challenger Jared Cannonier in December. But since then, the 32-year-old has picked up impressive back-to-back wins over Nassourdine Imavov and Abusupiyan Magomedov.
Strickland comes in as a surprise challenger for Adesanya, as No 1 contender Dricus du Plessis was on course for a highly anticipated fight against 'Stylebender', after a massive stoppage win over former champion Robert Whittaker at UFC 290 in July. But the South African was ruled out due to a foot injury, so the exciting brawler from California gets the chance of a lifetime in Sydney.
Adesanya, when questioned about his mindset for this upcoming title defence, said: "This is a violent game, so you need a little bit of darkness to be able to get through this. It's not all sunshine and rainbows in martial arts. Fighters are trying to take things I've worked for my whole life. I've got to get nasty with that person. I have to tap into that darkness a little bit."
Strickland is known for his brash personality, often coming under scrutiny for some of his outlandish comments, but Adesanya is prepared for it.
"I've owned the guy behind the scenes so many times, between me and him, and he knows," said Adesanya.
"In front of people, he likes to show off, but then backstage, he just quietens up again. I know who he is and it's going to be me and him alone in that cage,"
"His fans are looking forward to the press conference because that would be the most entertaining part of the fight for them because they know they're about to watch this boy get whooped."
Prior to the Pereira knockout, Adesanya had received criticism for not pursuing a stoppage, with three straight wins coming via decision.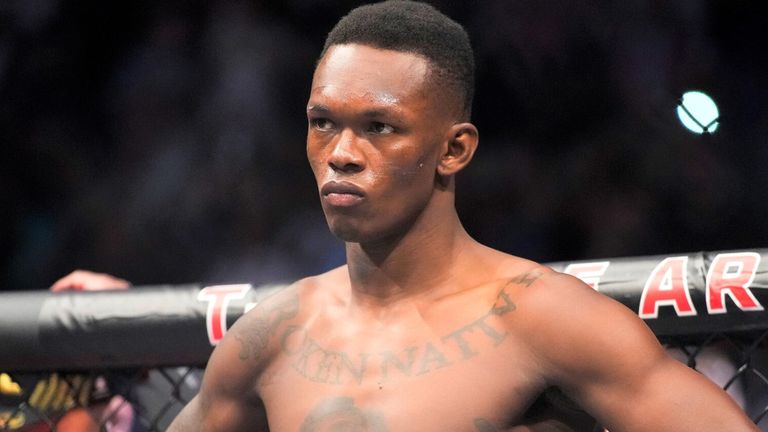 But the champion is certain of a devastating win on Saturday night, either by knockout or submission
"I want to knock him out. I'm going to knock him out. It's not no ego, no nothing. It's just one plus one is two. I'm going to knock out Sean Strickland. It's that simple," he said.
If he gets through Strickland, Adesanya has big plans next year, in and out of the cage. "2024, just running through people, keeping the belt, taking names, getting money, travelling. I've got bigger dreams than this.
"This is one of my biggest dreams that I've achieved, and I still love it. There are bigger dreams than fighting. It's not just about belts or money. There are certain things I want to do in this game that I still haven't achieved. You guys focus on the UFC itself as a whole. I'm player one. I'm playing a different game. I'm doing side missions and unlocking achievements."