Spain footballer Jenni Hermoso filed a complaint against Spanish FA president Luis Rubiales after he kissed her on the lips on the winners' podium of her team's Women's World Cup final victory over England
Friday 8 September 2023 13:00, UK
The Spanish prosecutor has filed a complaint against the Spanish FA chief Luis Rubiales for sexual assault and coercion.
It comes after Jenni Hermoso filed a complaint with the prosecutor's office on Wednesday.
With the complaint, Rubiales could face criminal charges, in addition to the ongoing inquiry by Spain's top sport court for "serious misconduct" and an investigation by FIFA, which has provisionally suspended him.
According to a sexual consent law passed last year, Rubiales could face a fine or a prison sentence of one to four years if found guilty of sexual assault.
Prosecutors added Friday Rubiales could have committed an act of coercion when, according to Hermoso, he pressured her to speak out in his defence immediately after the scandal erupted regarding his behaviour.
Prosecutors have also asked the judge that Rubiales appear before a court to give preliminary testimony.
If the National Court judge agrees the hear the case, it would lead to a formal court investigation that will end with a recommendation for the case to either be dismissed or go to trial.
The football player accused Rubiales of sexual assault after he kissed her on the lips following Spain's 1-0 victory over England in the Women's World Cup final last month.
Hermoso said she did not want to be kissed, and that she felt "vulnerable and a victim of an aggression". The Spain player also said she and her family were pressured by the federation to show support for Rubiales in the immediate aftermath of the incident.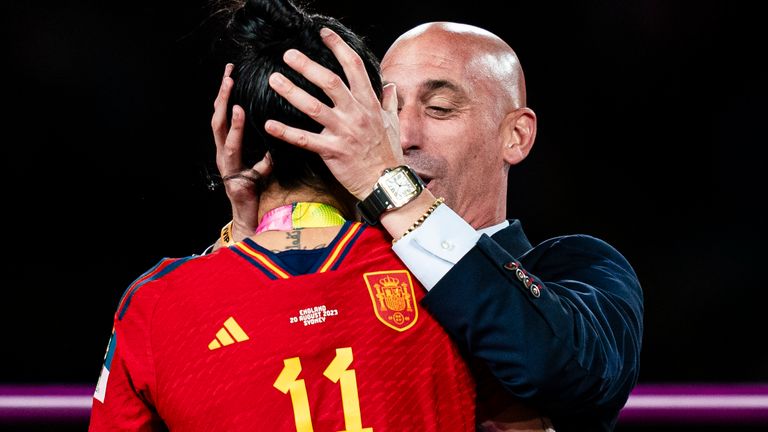 Rubiales, who has so far refused to resign despite heavy pressure, said the kiss was "spontaneous, mutual, euphoric and consensual".
Spain's government, players' unions, players and many citizens have vocally supported Hermoso – but Rubiales has refused to resign.
Rubiales was suspended by FIFA on August 27 after he delivered a defiant speech to the general assembly of his federation in which he claimed he was the victim of a "witch hunt" by "false feminists".
Regional FA leaders then called for Rubiales' removal, while Pedro Rocha, the federation's interim president, apologised this week for the "enormous damage" caused by his predecessor's actions and promised organisational restructure.
That restructure is now taking place, with Jorge Vilda – the coach of the women's team who was seen applauding Rubiales during the speech in which he refused to resign – sacked on Tuesday and replaced by Montse Tome, his former assistant.
Please use Chrome browser for a more accessible video player
Sky Sports News chief reporter Kaveh Solhekol explains why Jorge Vilda, Spain's World Cup-winning coach, has been dismissed by the Spanish Football Federation
Vilda has branded his sacking as Spain Women's head coach only weeks after winning the World Cup as "unfair".
"I am as well as you can be having been fired after being world champion 10 days ago," Vilda said in an interview with Cadena SER. "I believe I have been fired unfairly.
"In sporting terms, I am going to accept all criticism. But on a personal level, I believe it has been unfair.
"It has been a special year. Nothing has ever been said directly but indirectly things have been said that do not sit well with me. Things have been said that are not true."
He added of his dismissal: "It was a brief meeting with Pedro Rocha and the vice president of equality. The explanation is that there have been 'structural changes'.
"After everything I've achieved, after having given my 100 per cent, my conscience is clear. I don't understand the firing. I didn't think I deserved it."
All 11 of Vilda's backroom colleagues had already resigned in protest over the ongoing crisis surrounding Rubiales.